Almayate: An Undiscovered Gem By The Mediterranean Sea
Axarquía has a long coastline stretching from just outside of Malaga to just past Nerja. Almayate is often overlooked, in the desire to head to the larger resorts of the region. However, this small resort has much to offer to day trippers or holiday makers.
Almayate lies at the western end of Torre Del Mar but is quite different from its lively and larger neighbour. This is a relaxed resort with a long stretch of wide beach, nestled between ancient lookout towers at both ends of the resort. Even more dominant is the ubiquitous Osborne Bull towering over the coastline, set on the Peñón del Toro crag. It's quite a dramatic sight.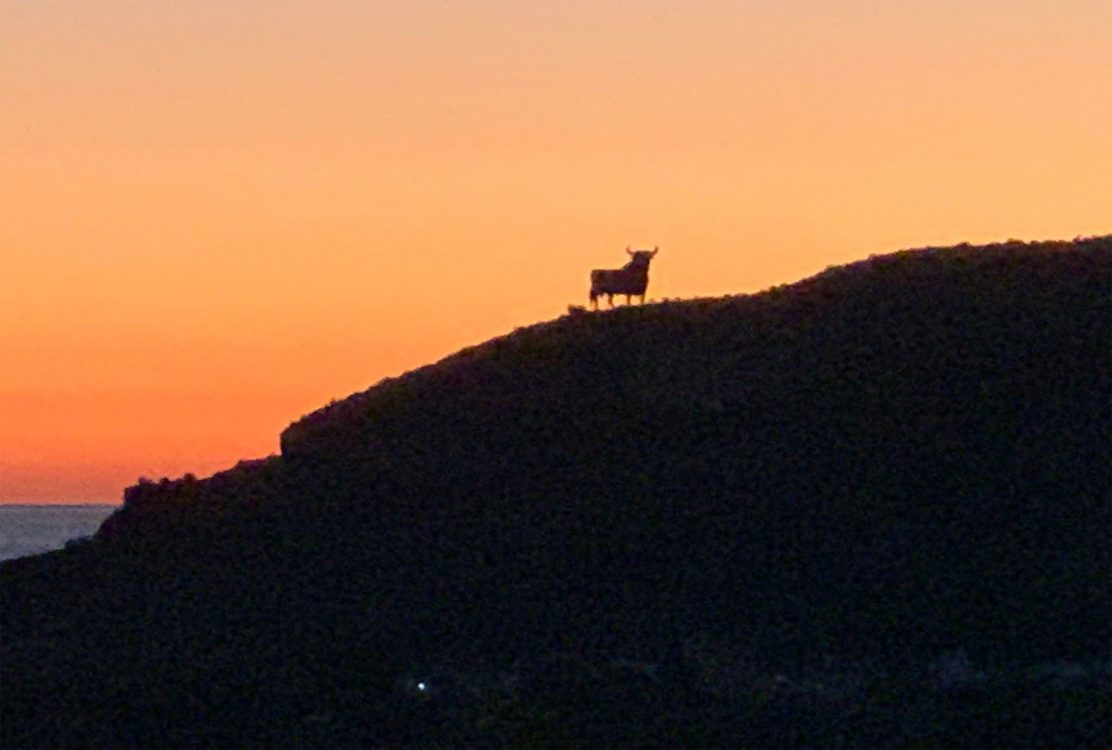 The famous Osbourne Bull
Almayate Alto and Almayate Bajo
Almayate has two separate areas: Almayate Alto, the inland or high area, which is a scattered collection of houses and farms and Almayate Bajo, the coastal area. Here the houses are more prolific, most of the town's population lives in this area and the majority of visitors stay here in either one of the campsites, set enviably by the sea, or in a holiday rental. Possibly, a reason why this small settlement has not attracted a deluge of visitors is the fact that no hotels are located here. This makes it one of the few quiet resorts in Axarquía.
This small village actually only exists in its current form because of the quarries which provided stone to build Malaga Cathedral which meant that the workforce located here. However, there is evidence of earlier settlements including Roman and Arabic. Now, from these small beginnings, the town has expanded using the fertile ground near the coast to grow and produce sugar cane, plants and flowers etc. There are some excellent garden centres here too which are a popular place to visit on a Sunday morning. Within the pueblo, set about 1/2km from the coast, there's a bank, shops, some bars and restaurants.
Almayate Beach has dark sand scattered with pebbles with a stretch of about 800 meters. There are few services: a couple of seasonal chirunguitos of a definite beach shack type, look out across the Mediterranean Sea to North Africa. There isn't a promenade as such, so this is a place for beach walking. However, there is ample parking. At the Torre Del Mar side of the beach, is the isolated and privately located nudist beach. This discrete beach is apparently among the top three nude beaches in Spain. There is even a naturist campsite close to the beach, along with a beach bar and restaurant. Whilst the beach services are limited or scarce, this is the precise attraction of Almayate. The unspoilt nature and the location next to agricultural land make it the ideal place to relax, unwind and enjoy.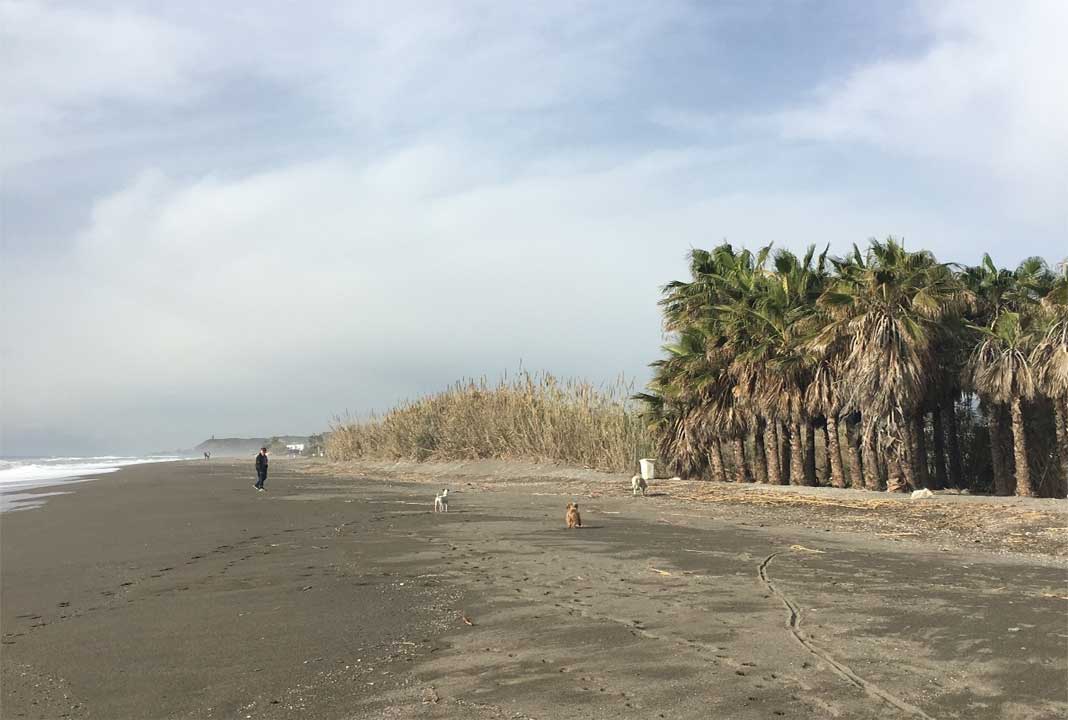 Almayate Nudist Beach
Despite its small size, Almayate has its fair share of festivals beyond the ones celebrated throughout the region. In April, there's the Día de la Yunta y su Gañán, the day of the drover and his bulls. These impressive creatures are huge and the festival is a dedication of their strength and the skill of the drover as they are put through a series of different types of tests. https://www.malaga.es/buscar/3203/com1_md-3/com1_fb-0/com1_md3_cd-5988/dia-de-la-yunta-y-su-ganan. In May, Sagrado Corazón de Jesús Romería is held and has a truly traditional nature along with the bull drawn carriages as the different areas converge on ground near to the Torre Del Mar shopping centre, El Ingenio, for a few days of camping and celebrating. In December, there's the El Belén Viviente de Almayate, or a real live Nativity scene. Whilst this only started in 2002, it now attracts upwards of 30,000 visitors to watch the 12 scenes of the Nativity acted out by locals over two hours. There's local produce, such as roasted pigs and black puddings served to the audience. Each year there are new costumes and sets making it worthwhile to see more than once. http://belenviviente-almayate.com
Almayate has much more to offer than you think. The long and often quiet stretch of beach, the understated beauty of its setting and the lively and quirky festivals make it a great place to get to know Axarquía.