Competa: Traditional Spanish Village With An International Vibe
Competa is a traditional Spanish village with an international vibe. There is a steep and twisting 18km road which goes from Torrox Costa to the magnificent white village of Competa. Clinging precariously to the hillside, 636m above the sea, this enchanting place has exceptional views of both the sea and mountains of the Sierra Almijara. Whilst the drive on the dramatic sun and wine route might test your stamina, either via the coast or the equally twisting route across the Sierra de Tejeda from Viñuela, it is well worth the trip to sample the delights of this lovely place.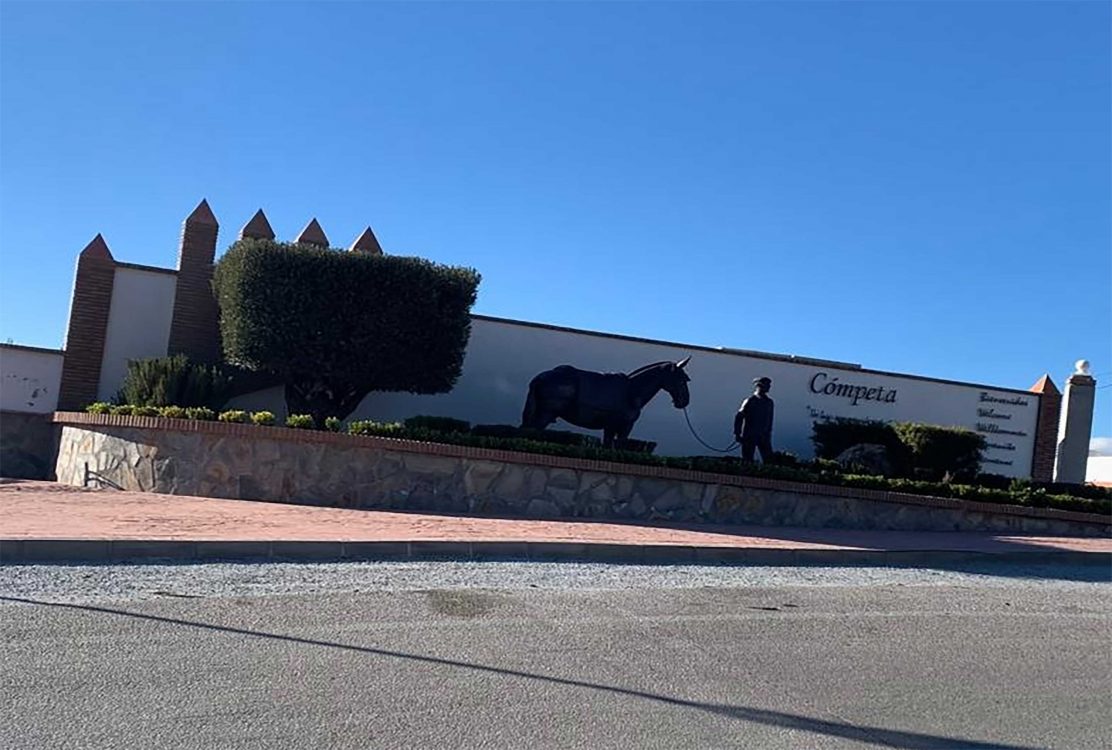 Welcome to Competa
An eclectic and charming mix
Competa has become the home for many people across Europe and beyond. In fact, it's range of nationalities total over 35 in a population of just under 4000! This gives this white village a lively vibe and eclectic mix of things to do as businesses reflect its cosmopolitan residents. It is a harmonious place where Spanish traditions meet different cultures.
In the last two decades, many Europeans have chosen to relocate to Competa. They are attracted to its quieter pace of life, it's stunning location where, depending on the season, you can see snow capped Sierras at the rear and the brilliant blue Mediterranean in front, and great value property. They, in turn, have brought an international feel to Competa. Restaurants are interesting, reflecting the international residents with the many styles of cuisine. In addition, many offer vegetarian and vegan options to cater for everyone.
Likewise, activities are diverse. Where else could you participate in Yoga, take a horse ride from an English owned mountain retreat or have a complete Zumba workout. This village has a range of options that competes with many larger places nearby. The advantage here is that it retains its small village character and has a friendly, affable nature.
Staying here is a pleasure too. Enterprising foreigners have joined local Spanish residents in opening a vast array of accommodation options from small boutique hotels to self contained villas and apartments to bigger Hotels such as Hotel Competa, a rural hotel in the heart of the town, as well as the gay friendly Casa Los Dos. Competa prides itself on catering to all the needs of the discerning tourist.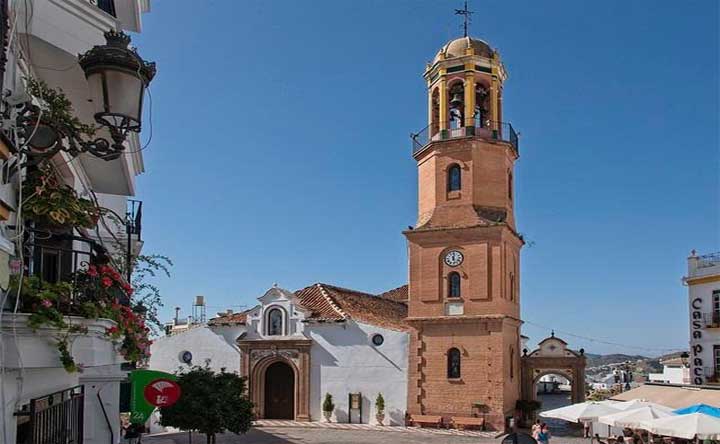 Take a walk to the church in the heart of Competa
A day in Competa
Once you've refreshed your mind, body and soul with Yoga and Zumba, what else has Competa to offer? A great deal in fact with it's delightful centre of winding narrow streets, plazas and cafes. It is easy to spend a day strolling, taking in the breathtaking scenery and relaxing.
A great place to start would be the central plaza, Plaza Almijara, by the Church of La Asunción, which is easy to spot with its vivid golden dome reflecting in the sunlight. You'll find lots of café options for a café con leche and maybe a breakfast tostada. There are also a few shops to browse, including locally produced ceramics. The pretty whitewashed streets converge on this plaza, so then it's just a matter of choice for where to head next.
Every one of these streets form a labyrinth to be negotiated and discovered with outstanding views of the surrounding countryside and coast. All across Competa, the traces of Moorish culture can be seen with arches and shaded patios. Taking a stroll is pure delight.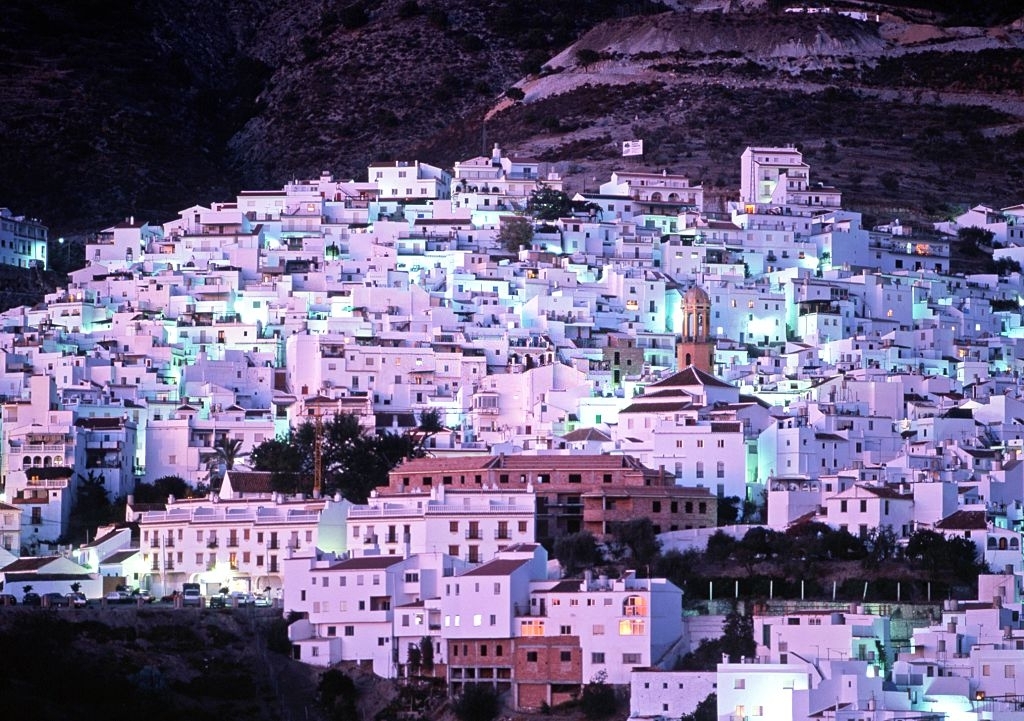 Competa lit up at dusk, Andalusia, Spain.
Celebrate with Competa
As with most places in Axarquía, Competa has lots of festivals to enjoy throughout the year. The Feria is held in late July and the town celebrates with several days of dancing and eating as is usual in a traditional Feria.
The festival that makes Competa stand out from the rest is the Noche Del Vino, the wine festival, which as the name implies is held late at night and stretches into morning. This traditional festival marks the start of the wine harvest and dates back a few centuries.
The festival is held on August 15th and begins with grape stomping on Plaza de Vendemia. There are lots of traditional dances and live music to accompany this grape squashing. Of course, there's a great deal of wine tasting and drinking too! Around 3pm, free wine is served along with migas, the traditional Spanish bread and grape dish. Just make sure that you have a designated driver or accommodation booked.
Wine is made here from grapes and raisins which produces the sweet Muscatel wine. If you miss the festival, then you can always head to Bodegas Almijara shop on Plaza de la Almijara, Sierra Almijara-Tienda de Vinos which supplies the Jarel sweet and dry muscatel wines. If you're even more serious about wine, then you can call the Bodega, located on the outskirts of Competa for a visit.
Make sure not to miss the incredible sunsets of Competa. Look up to the darkening skies and dream about your next visit. The steep, twisting ascent is certainly worthwhile for a visit to this quirky and unique white village.