Frigiliana: Picture Perfect White Village
Axarquía is renowned for it's beautiful and often spectacular white villages that precariously dot the mountaintops and adorn the hillsides. Everyone will have a personal favourite but high on the list is the stunningly attractive, Frigiliana.
It often appears in both local and international media as one of the most beautiful villages in Spain. It is listed in the exclusive guide to the most beautiful villages in Spain and deservedly so.
https://www.lospueblosmasbonitosdeespana.org/pueblos-con-encanto.html
Once you explore it's narrow, winding whitewashed streets with their flower bedecked balconies, it is easy to see why this remains a popular destination for tourists and locals, alike.
Take a stroll round Frigiliana
The easiest way to discover this gem of a town is to park your car, or take the bus from Nerja, wear comfortable footwear and begin a stroll of discovery. The narrow streets will enchant you with their picture perfect houses but be warned, many are steep so choose appropriate shoes. This elevation makes for incredible views. On a clear day, North Africa is visible. Nerja 6km away is easy to see, nestled by the clear waters of the Mediterranean.
Frigiliana is divided into two by an intersection where the bus pulls in and the tourist train stops. The streets are not pedestrianised but local police ensure that during the day only local traffic passes through. The lower section of this divide is the newer part of town and, whilst it is pretty, it is the upper section, Morisco-Mudéjar that captures the heart and the soul.
Here, you will see the Moorish influences with the hand of Fatima door knockers and secluded patios. In fact, with the white and blue, the town is incredibly reminiscent of Chefchaouen, in the Rif Mountains of Morocco. Frigiliana has a relaxed and gentle vibe. It is easy to while away the hours with a coffee or wine at one of the many terraced cafes in the old town.
The area has lots of small artisan shops with gifts. Frigiliana is an attractive prospect for tourists. Shops offer local produce such as honey or wonderfully smooth olive oil alongside other shops with the ubiquitous fridge magnets or brilliantly vivid ceramics.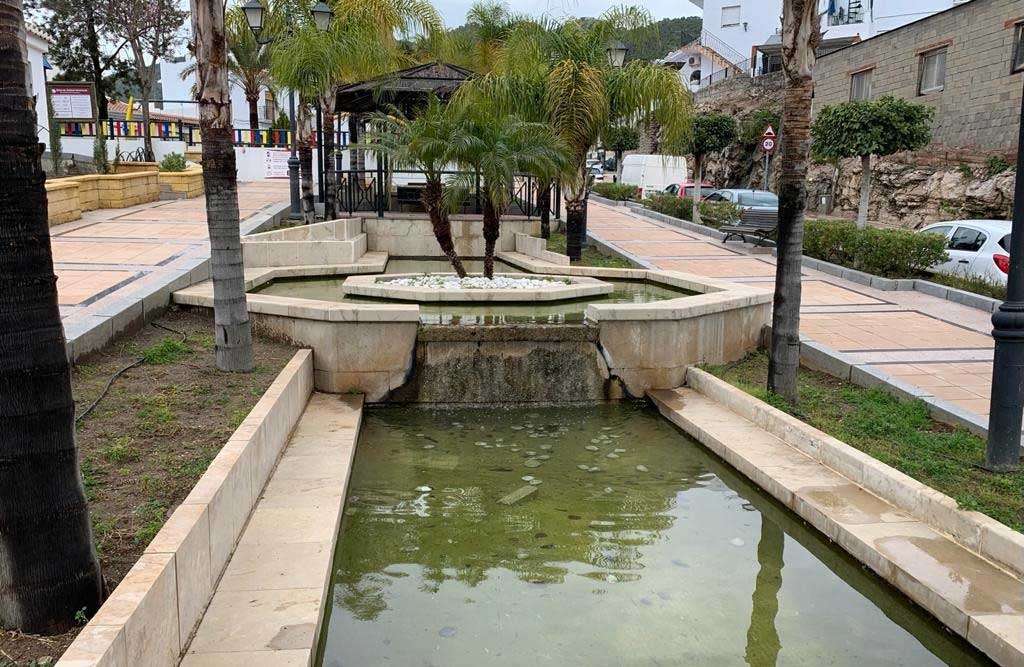 Have a stroll around a little park in Frigiliana
Sights not to be missed
Really, every street and alleyway has something to offer. However, there are some features and classic sights here. The Fuente Vieja or old fountain that divides two equally beautiful streets is an ideal photo opportunity. There's the Renaissance Palace of the Count and Countess of Frigiliana and the Santo Cristo de la Caña church.
Where the old town divides from the newer part is El Ingenio, the mill or factory also known by its formal title, Casa Solariega de Los Condes. Built in the late 16th century, this is the last functioning molasses factory in Europe. The jars of sweet and delicious molasses, Ingenio Nuestra Señora Del Carmen, are well worth the purchase. This rich sweet delicacy is fabulous drizzled over the classic Andalucian fried aubergine dish: berenjenas. It also makes an awesome and unique topping for ice cream!
The Three Cultures Festival held in the last week of August is well worth a trip. It is a celebration of crafts, music, food and lights. It has something for everyone. January 20th marks Frigiliana's Saint's day, San Sebastián with processions and fireworks.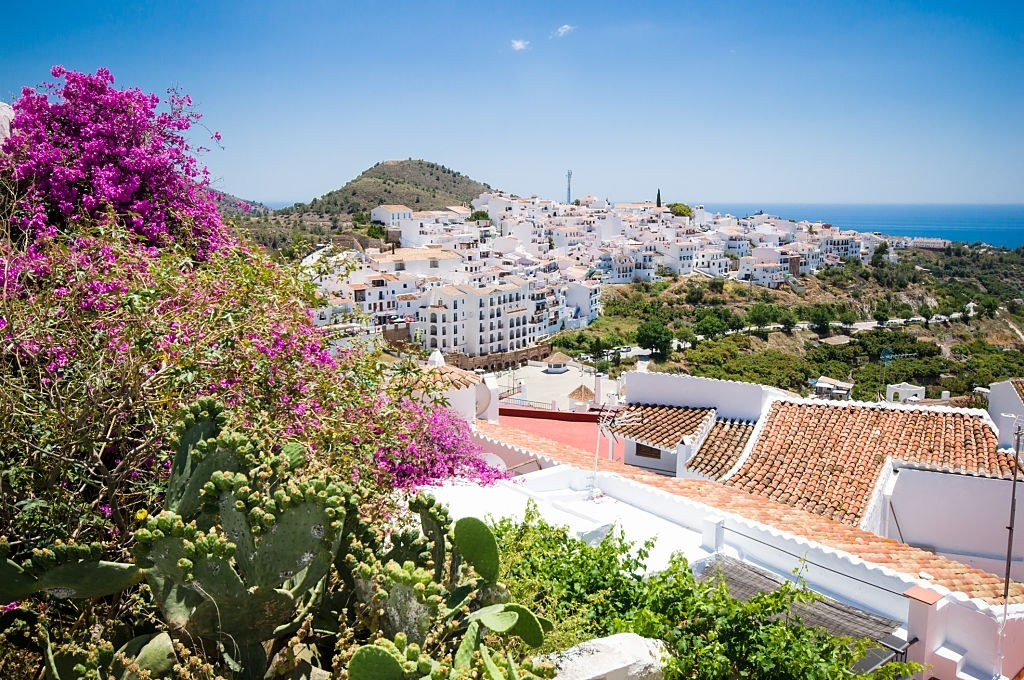 Frigiliana in Malaga, Andalusia, Spain
Beyond a day trip
Frigilana is perfect for a day trip with plenty to see and do. If you're tempted to stay and see the pretty village illuminated at night, then there are a few small boutique hotels in the old town and quite a few apartment options. You will hear a range of languages as Frigiliana is a popular relocation place for many North Western Europeans who love its relaxed vibe and serene beauty.
It is very popular in summer when naturally prices are higher but Frigiliana is a place for all seasons. If it gets too hot then there's a beautifully situated municipal swimming pool overlooking the mountains with a restaurant next door.
Food choices abound in Frigiliana from classic Spanish to a whole range of international restaurants. There's even an excellent Polish restaurant which alongside the classic Polish dishes also offers an interesting slant on tapas. For under 12€, you can share 6 small dishes of Polish classics which is a great introduction to this often overlooked cuisine. Sal y Pimienta is located at Plaza de las Tres Culturas, 1. Whatever you decide, you will be well catered for in this eclectic town.
Frigiliana, well deserves the accolades as one of the prettiest villages in Spain. Visit and you are sure to be delighted by its charm and beauty.