Maro: Breathtaking Scenery Along The Coastal Drive
Maro, set spectacularly on the cliffs, is a tiny beach settlement that is full of life and beauty. The sunrises and sunsets here are truly incredible as the light, cliffs and sea create an incredible vista.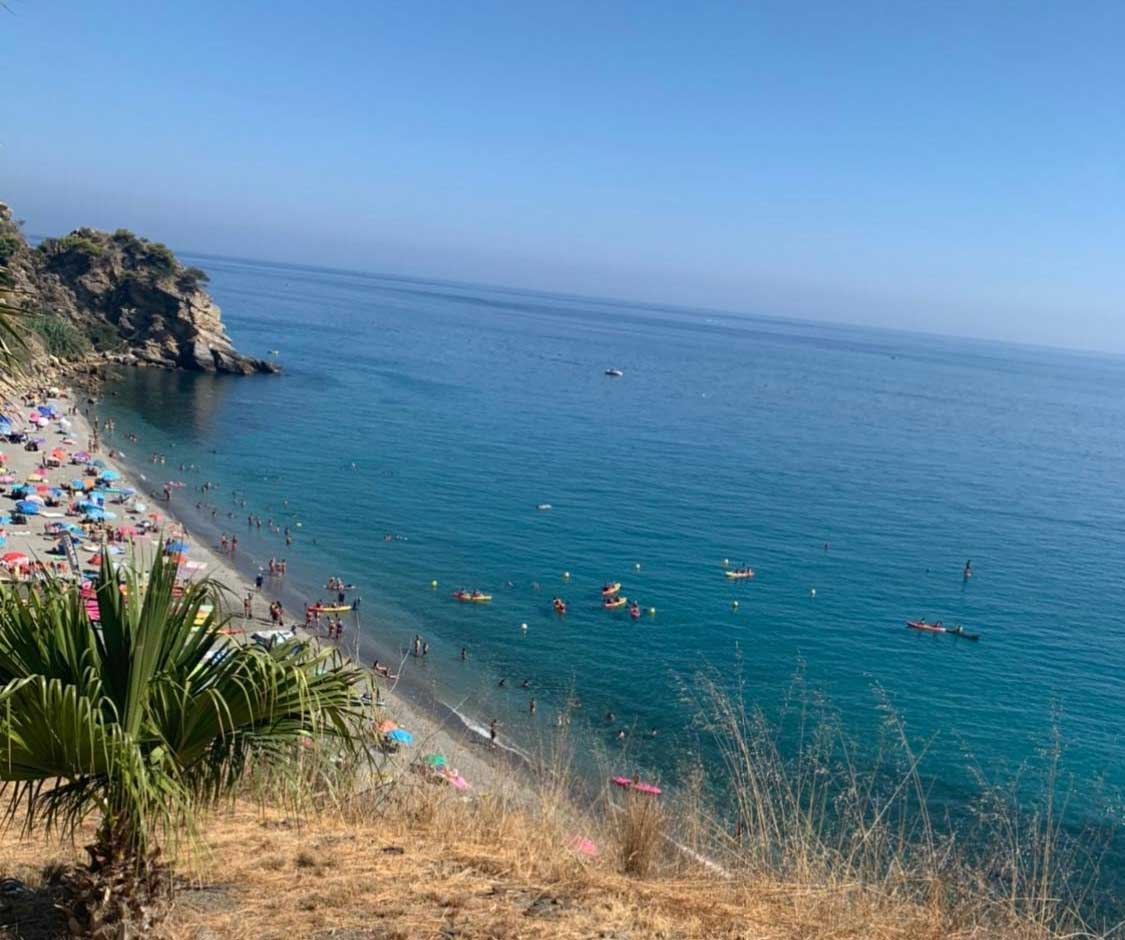 Maro beach, a magical cove
Maro's fiestas
Maro, the small village just east of Nerja with a population of 800, is located on the coast, 3km east of Nerja and 50km east of Malaga. Maro's whitewashed houses set by the sea make it an incredibly attractive village. It dates back to the early Christian Era and archeologists discovered evidence of a Roman fortification. This is now the Plaza de la Iglesia. Within this small village there are a great range of tapas bars and restaurants. It seems a million miles away from the ever popular, Nerja. On last day of October, Maro continues an ancestral tradition by celebrating the humble chestnut. The Chestnut Fiesta or Fiesta de la Castaña y el Boniato draws a large crowd as locals and visitors participate in the mass consumption of thousands of kilos of this dried fruit together accompanied with another speciality of the area: roast sweet potato. This lively festival includes music, entertainment and dancing which continue well into the night. It combines itself with the other celebration on this day: Halloween or Maroween. Introduced just a few years ago, it has developed in popularity. It now stretches to the next day and the nearby Nerja caves often offer some subterranean thrills and scares for a small admission fee. The September Feria is another exciting event on Maro's calendar. It's a village affair with horse riding, music and dancing and a taste of a real Pueblo Feria. http://www.explorenerja.com/towns/maro.htm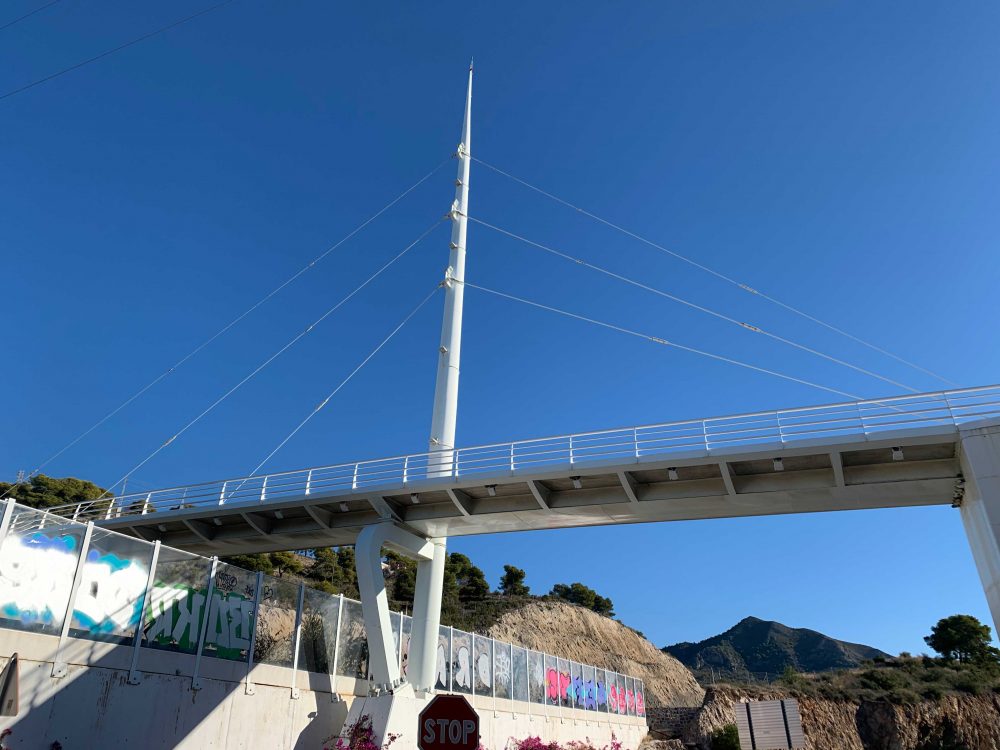 Bridge in Maro overlooking the A-7 motorway
Maro-Cerro Gordo Cliffs Beach
The beach at Maro has no real development and therein lies its attraction. It is simply a beach set in some of the most awe inspiring scenery in Axarquía. Here, the Sierra de Almijara plunges dramatically into the sea whilst erosion has created this spectacular coastline of cliffs, coves and small beaches over an area of 1,814 hectares, on the border between Granada and Málaga provinces. At Maro-Cerro Gordo Cliffs Beauty Spot or the Paraje Natural Acantilados de Maro-Cerro Gordo the truly incredible beauty of this area can be seen. It's a few minutes drive from Maro village and a ten minute drive from Nerja centre as well as being on the local bus route. Playa de Maro is a fifteen minute wander down the winding path from the village centre and the large car park. The beach is a mixture of sand and shingle and set in a sheltered and secluded cove. Maro Beach has just one beach bar/restaurant and limited facilities as this is a protected area. Therefore, it is important to bring all the things that you might need for a day at the beach surrounded by natural beauty. The 500m long beach with soft sand is surrounded by nature and beauty: vegetation, crops, canes and the sparkling azure sea. In the crystal clear waters of the Mediterranean there's a treasure trove of coral reefs and all types of fish. This is an ideal location for snorkelling. The sea here is usually calm and tranquil, with its translucent blue colour. Fishing is not allowed here as it is a natural park which means that fishes and aquatic life are in abundance: groupers, sponges, corals, and sea anemones to name a few. More experienced divers can discover the amazing underwater caves.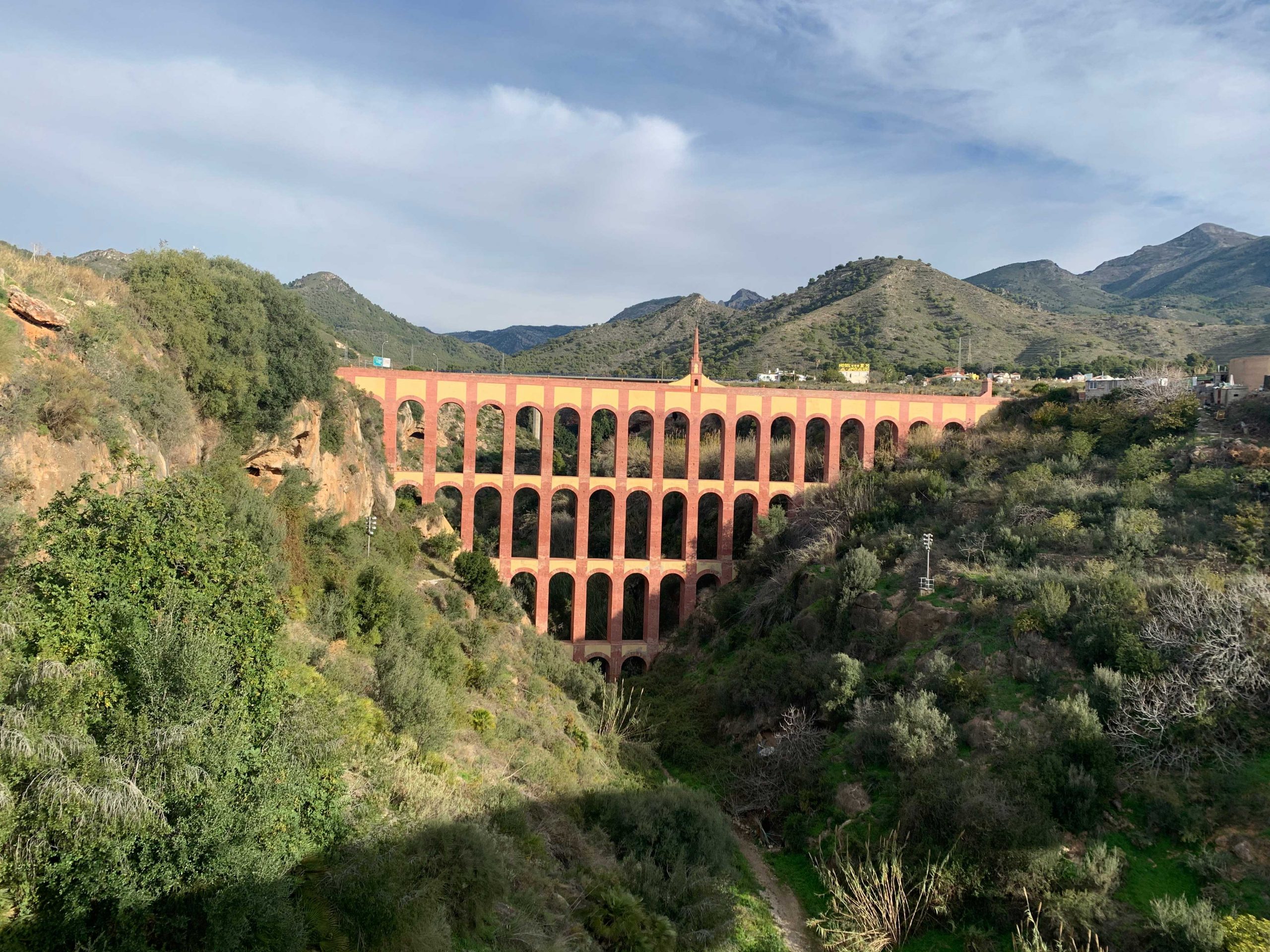 Maro viaduct
Rent a kayak and explore
Rental of kayaks with the "Salamandra Multiaventura" company, https://www.malaga-aventura.es, allow you to explore the stunning landscape. It's possible to book an excursion with one of their guides so that you don't miss any of this area's hidden gems such as the water falling down as a waterfall from under a cliff. At the top of the hill before the descent down to the beach is quite an incongruous sight: a biker bar and live music venue run by an English man who loves both the music and the bikes. The coastal highway is a popular place to ride motorbikes and cycles and the bar provides an excellent watering hole on the route. It is a friendly place with hearty food and hosts lots of local bands with a wide variety of music tastes catered for including a popular jam session. https://www.facebook.com/motorockbarhs/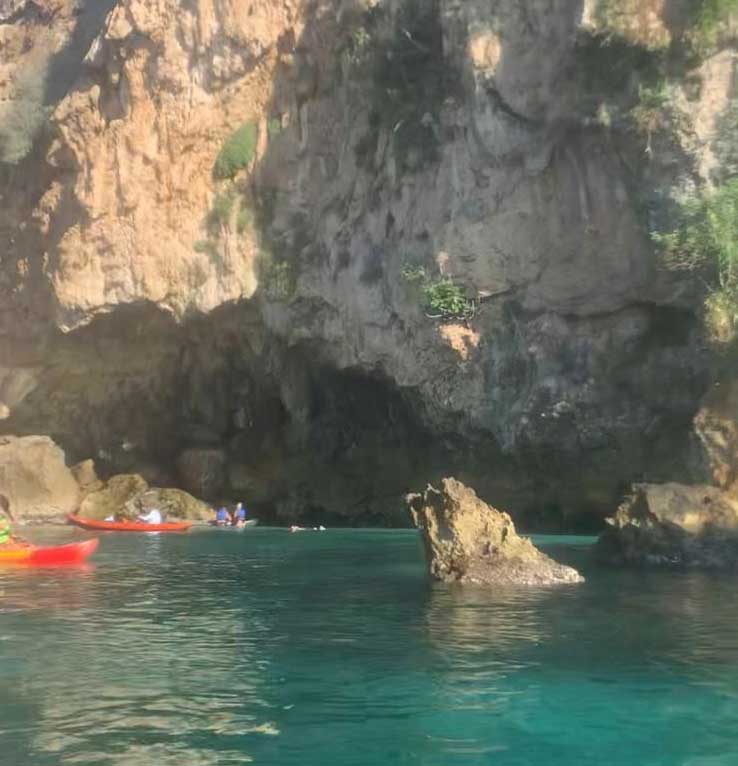 Rent a kayak and explore the coves