Nerja Beaches
Nerja, has an enviable location by the clear waters of the Mediterranean. It has a reputation as one of the best places to visit, stay and live in Axarquía. This well deserved reputation comes not just from the thriving town, the excellent choice of cuisine but the many beaches that dot its coastline. Nerja beaches are well worth the trip. Here's what each beach has to offer.
Playa de Burriana
Of all the Nerja beaches this is probably the most popular with its range of facilities which appeal to families and groups. It's classed as an urban beach and is easily accessible from Nerja town. Fringed by a palm tree shaded promenade, Burriana beach offers a range of facilities: restaurants, bars, shops and water sports equipment hire all make this a popular destination especially in the summer peak season. The boardwalk along Burriana beach makes it easy to navigate and access all areas of the beach. If you want to hire sunbeds or hamacas there are lots of options and there are beach volleyball and children's play areas making it ideal for everyone. There are showers, toilets and lifeguard facilities. If you enjoy the sea, there are more options than just a dip in the water. Pedal boats can be rented as can paddle boards, canoes or jet skis. There are the invigorating and fun banana boat rides, too. For the thrill seekers, there's a diving school located by the impressive cliffs. This cliff is often used as a diver's springboard into the crystal clear waters.
Playa Calahonda
This busy beach is located right in the heart of Nerja, below the Balcón de Europa, from which it is easily accessible. The facilities of the town are close to hand, should you need food, drink or a beach towel! However, there are quite a few places to rent sun loungers and parasols. It's a popular place with tourists staying in the central Nerja hotels for its ease of access and it's beautiful dark sand and fine pebbles. Playa Calahonda is the ideal place to spend a few hours relaxing on the beach. It has the perfect backdrop of the pretty town of Nerja with its sparkling white buildings and all that a great beach can offer, in a compact space. In summer, this space is at a premium at weekends so try to be flexible with your visit.
The Maro coastline and beach
Maro's coastline is spectacular! It's location at the foot of cliffs and the Andalusian hills, create magnificent photo opportunities. It seems a million miles away from the hustle and bustle of Nerja centre but it's a mere 10 minute drive. The sunsets and sunrises are breathtaking. There's also public transport to this area so it's an easy trip if you're staying in the town. The parking or bus stops for some of the coves along the Maro highway are at the top of the cliff, so there's a bit of a walk downhill (and a climb back up!). It is well worth the exertion as these secluded coves are fabulous. However, Maro beach itself, offers parking close to the beach, though it can be very busy at weekends. Despite its sense of tranquillity away from the town, all the usual facilities are available. There are sun loungers for hire, toilets and a place to eat. This is the perfect place to dive too, and attracts divers from all over Europe and beyond. The water visibility is incredible and the sea life varied. If you love this idea of a day in the sea then kayaks are available for hire with qualified instructors there to after guidance and advice. Maro beach is a great and safe beach for the whole family with lifeguards in attendance. It's a perfect day trip!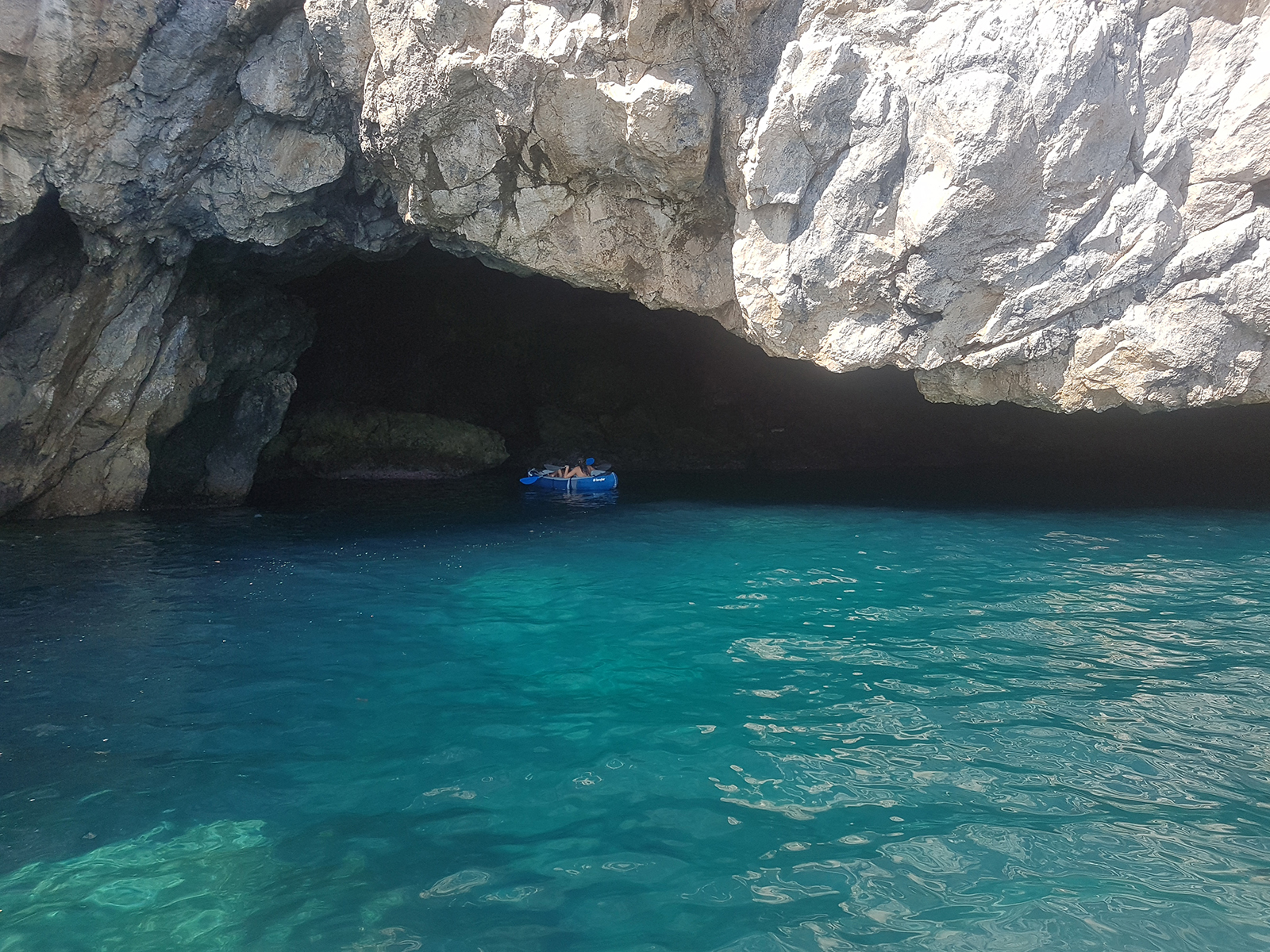 El Salon beach
This is a town beach, a short stroll from the Balcón de Europa and near to the popular bars and restaurants of the town. El Salon, literally means the room and this is a very cosy space. Despite the path being steep leading to the beach, it is wheelchair accessible. This path is also shaded by tall Palm trees. It is a combination of rocks and sand but the rocks allow you to create your own private space. There are the usual facilities of toilets and showers. Its close proximity to the town means it is very popular in the summer. This is also due to the fact that it is beautiful as well.
Playazo beach
This beautiful beach is set in a quieter location and at 1.7km long it has ample space for all. In addition, it's location at the eastern part of Nerja makes it separate from the more touristy beaches. It is a place to relax and unwind. Playazo beach has good parking, accessible from the coastal N340 road. There are chirunguitos where you can sample great tapas or paella. The facilities here are more limited but sun loungers are available to hire. Whilst kite surfing is popular, you'll need to bring your own equipment. There's a children's play area though and beach football. Overall, this beach is all about enjoying the sun, the sea and the sand. The beach borders the more popular Torrecilla beach and there's a viewing platform where you can get incredible photos.
La Torrecilla beach
This award winning beach has received the Blue Flag seal of quality year on year. Since 2006 Torrecilla has won the Q for Tourist Quality. Naturally, with these accolades, it is incredibly popular with tourists and locals. It has a range of access points including a private access from a major hotel: the Rui Monica. Bordered by a beautiful promenade which is a perfect walking place in the cool of the evening, Torrecilla is full of facilities for the discerning visitor. There are bars, chirunguitos serving sardines and more, sun loungers which can be hired the day before in high season as well as showers and toilets. The beach is accessible for all and parking is free, a real bonus in the Nerja area.
El Chucho beach
El Chucho is the final beach on the western side of Nerja to have a paseo maritimo or seafront promenade. This beach promenade, opened February in 2010, links the small and intimate El Chucho with its bigger neighbour, Torrecilla. It's a lovely walk between the two. At a mere 280m long and 30m wide, it's easy to bypass but it's definitely worth settling down here to soak up the sun. It is easy to access from Nerja town. It's sheltered position and shallow waters make it a popular beach with families. El Chucho offers all the usual amenities: disabled access, showers, toilets, sunbed rentals and lifeguards in the summer months. Whilst there are no chiringuitos on the beach, the ones in Torrecilla are within easy strolling distance. However, a kiosk sells drinks and refreshments.
Carabeo beach
Carabeo beach is a small secluded cove and is incredibly beautiful. It's just 120m long and 15m wide but it remains quieter than its neighbours of Calahonda, as steep steps mark the descent to the cove. The 115 steps might deter some and it certainly means it is not accessible for all. This beach is a lovely place to relax. The facilities are more limited here: toilets, showers and a kiosk but if you're prepared to ascend the steps, you'll find restaurants and hotels with incredible sea views.
Carabeillo beach
Carabeillo beach has even more steps than its neighbour, Carabeo. It is situated between Carabeo and Burriana beaches at the eastern end of Nerja. The 117 steps make it perfect for self sufficiency so bring your own refreshments and drinks as it's a steep climb back. Of course, you can walk along from Burriana beach and this is a great way to get to Carabeillo. This sandy beach is relatively quiet because of the access. This makes it the ideal place if you want to get away from the crowds and relax.
La Caletilla beach
La Caletilla beach is situated right by the Balcón de Europa. This small beach of dark sand is only about 50m long and up to 20m wide, depending on the tide. Whilst it is a public beach, it adjoins the Hotel Balcón de Europa and is used by the guests staying here. The hotel provides the services on the beach. Access for the public is via a walkway from Calahonda beach. When the sea is rough, the beach disappears and the hotel terrace has a perfect sea front.