Shopping In The Axarquía
Whatever you are looking for, you will find it in this area, whether it is hand-made clothes, household goods or crafts, high street stores, British favourites or fresh produce.
Opening hours
Tourists may be surprised to find that outside of the most popular tourist areas on the coast, shops close at 2pm and do not reopen until 5 or 5:30pm in the evening, remaining open until 8 or 8:30pm. On Saturday afternoons you will not find many shops open on Sundays you are unlikely to find many shops open at all. During the Summer and in December and the first week of January, some shops and shopping centres open, but generally Sundays are very quiet and if you fancy a little retail therapy you will enjoy the car-boot style markets (rastrillos).
Supermarkets do not have a siesta and are open all day, normally six days a week from 9am until 9 or 10pm.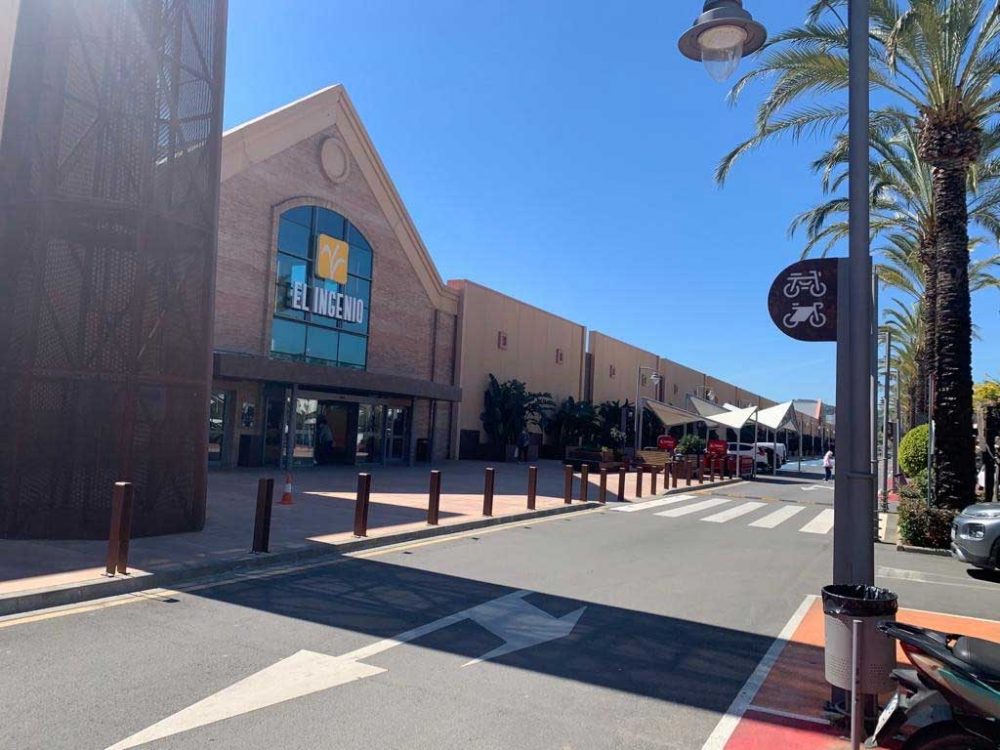 The newly refurbished and modernised shopping centre 'El Ingenio' in Velez Malaga
Shopping Centres - Centros Comerciales
In this area, we have two great shopping centres with plenty of free parking. The first is El Ingenio which is located on exit 272 of the A7 motorway. It has just undergone a makeover and emerged brighter than ever.
It has a large Eroski supermarket which stocks a limited range of British food products as well as household items and electrical items, a Dunnes Store and the usual range of high street stores such as C&A, Zara, Game and H&M, several sports stores and much much more. Upstairs there are restaurants and fast food outlets as well as a place for your children to play while you shop. There is a large pet store and a gym too, plus somewhere for children's parties in the new Sould Park Jump. The new playground for children up to 12 years of age has recently opened, located outside of Dunnes stores.
The cinema shows films in English on certain days as well as the latest releases in Spanish.
The theme of the centre, which you see on its logo (sugar cane) is of an azucarera or sugar factory. There used to be a number of these factories along the coast and at El Ingenio they have installed some of the machinery next to the escalators. So if you have ever wondered what it was, now you know where it came from.
Further down the A7 towards Málaga is Rincón de la Victoria whose shopping centre is located just off exit 251 at La Cala del Moral. This centre also has a large supermarket, in this case Carrefour, and again has a number of well known high street stores to choose from. The cinema is very popular and the Multiaventura is ideal for children's birthday parties with its Nerf park. Outside there are padel courts, strategically located just outside the bars on the upper level.
https://www.ccrincondelavictoria.com/
For more shopping centres, you can make the trip to Málaga where you will find centres at Los Patios, https://www.cc-carrefour-lospatios.com/Rosaleda, https://www.centrocomercialrosaleda.es/and in the city centre the Larios Centre https://www.larioscentro.com/ES and Vialia shopping centres https://www.vialiamalaga.es/Naturally, in the centre expect to pay for parking or to have to present a receipt to get a discount on the parking fee. The recently expanded Plaza Mayor centre https://www.plazamayor.es/near Ikea https://www.ikea.com/es/es/stores/malaga/ is a very popular day out - parking is free too - and now boasts a McArthur Glen outlet section if you are after some designer items at discounted prices.
Town centres
The best town centres to browse in this area are Torre del Mar, Nerja and Málaga city itself with its famous shopping street Calle Larios where you will find larger than average branches of your favourite high street stores as well a plethora of independent shops down the side streets if you are after something a little different.
Fashion
There are a wide range of clothing and accessory stores in this area, the most popular high street stores such as Mango, Zara, H&M, Cortefiel, Bershka, Springfield and Pull & Bear are to be found in most centres, but there are also some stores which you may not have seen before if you are new to the area such as Calzedonia which sells trousers, leggings and tights, and for high quality children's clothing, two chain stores which are based in the Málaga region, Charanga and Mayoral.
There are many independent stores selling more interesting designs which you won't find everyone else wearing. Torre del Mar and Nerja have some lovely stores selling jewellery, accessories and clothing which you will find as you explore the towns.
For department stores, the Costa has a number of branches of El Corte Ingles, but you will have to head towards Málaga to find one.
Perfumeries
Founded in Málaga, Primor is the most famous and prolific of the perfume and cosmetic stores in Spain and particularly around Málaga, the province of its inception. From designer perfumes and cosmetics to everyday beauty items, Primor is the number one in Spain.
If you ever wondered where the name of the store came from, the founder had purchased a shop in the city centre of Málaga for his wife, and after refurbishing it found himself unable to afford a new shop sign so took the existing sign and rearranged the letters to make a new name. What he came up with using the existing letters was Primor, hence the name of the store.
You will also find many parafarmacias which are not chemists, but sell many of the over the counter and cosmetic items usually found in a chemists shop.
Souvenirs
Typical souvenirs in this region include ceramics, anything to do with Flamenco, from dresses and shoes to novelties on this theme, fridge magnets and t-shirts.
An item which is unique to this province is the biznaga. This is a floral adornment which is made from wild thistle into which jasmine flowers are inserted to make either a decorative stick or more commonly a spherical "flower" shape. Sold in Summertime along the beach front to ward off mosquitoes, these fragrant items do not last long but are so beautiful that you may be tempted to purchase one. You can alternatively buy a more long lasting item on the same theme such as a porcelain replica or a piece of jewellery in porcelain or silver with the distinctive shape and detail of the biznaga.
Buying gifts in the form of food or drink items is also very popular. Look out for the Sabor a Málaga name which can only be displayed on items which have been accredited as being of the highest quality. Olives and cheeses such as a variety of the unique Málaga goat cheese, a pâté or a bottle of a local wine make a lovely gift whose purchase also helps the local economy. If you are looking for something a little different, in recent years, a local firm has even launched a locally distilled gin using mangoes grown in the Axarquía.
Supermarkets
Mercadona, Carrefour, Eroski and Día have branches all around the area and Lidl and Aldi are opening new stores around the region. In smaller towns or serving residential areas, we often find family-run supermarkets or corner shops such as Coviran.
Bazaar stores
No article on shopping would be complete without mentioning the ubiquitous Chino. Open when nobody else is, selling everything from stationery, toys, costumes, decorations, household items, haberdashery and tools as well as some frequently rather dodgy fashion, the Chinese shops are pretty much everywhere.
Fresh fruit, vegetables, meat and fish
Unlike many towns in the UK where these old staples have been swallowed up by the supermarkets, in this area you can still go to a real butcher, fishmonger and greengrocer. You will find a really wide range of fresh produce and some old fashioned service to boot.
Bakeries
An exception to the rule that everything closes on bank holidays and Sundays and even on Christmas morning is that you will find the panaderias open for business. Many people still buy bread daily, and as the baguettes do not tend to last long, they have to be bought and consumed quickly. Bakeries sell cakes and pastries as well as a sometimes overwhelming variety of bread, and do a steady trade all the year round.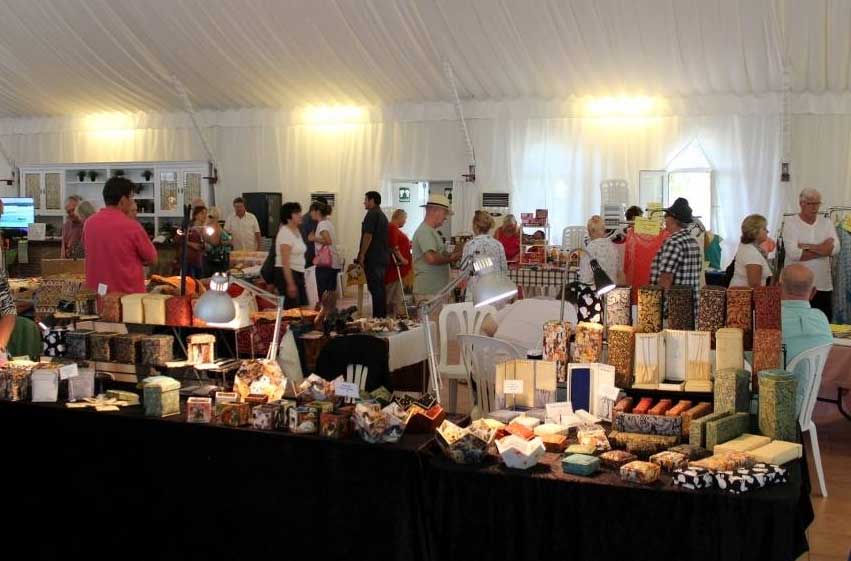 Every Tuesday Trapiche Market at Trapiche
Markets
Most towns have a market day. The market is normally a mix of fresh fruit and vegetables, clothing and household goods. Shoes are sold from the side of some specially designed lorries from which one side is lowered to reveal the range of footwear.
There is absolutely no shame in arriving with your own pull-along shopping trolley and filling it up with produce to drag home again.
There are also a number of car-boot style markets such as Nerja's Sunday rastrillo. On Tuesdays at Trapiche there is a British market selling fresh produce, crafts and handmade products including some British pies and cakes.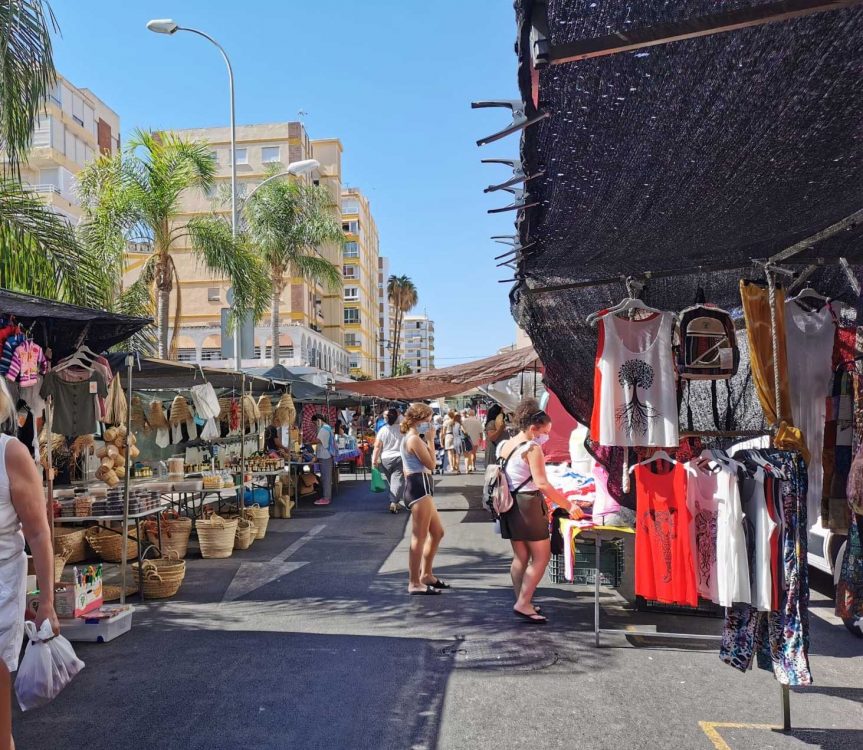 Torre del Mar Street Market, every Thursday morning
British food
Although you can now find some British staples in regular supermarkets - baked beans, sauces, Cheddar cheese - if you cannot live without your Danish bacon, British or Irish sausages, pies and puddings you will have to head for a British food store.
While you may be tempted to take a trip down the coast to a more tourist area to stock up, you can buy just about everything you are looking for at https://www.facebook.com/russellsbritishstore
Wholesalers
Many wholesale stores on industrial estates are open to the public. In Málaga the El Viso estate has many furniture shops where you may find items at keener prices than on the high street.
There are also Cash and Carries, known as a Cash where you can buy in bulk and make serious savings on soft drinks and olive oil in particular.
Should non EU visitors pay VAT (IVA) on purchases made in Spain?
Now that the UK has left the European Union, UK visitors may be able to reclaim IVA - which is the Spanish equivalent of VAT - on purchases made on visits of fewer than 90 days to Spain.
Not all shops provide this service so check first. When in a shop you should ask the assistant if they provide an IVA refund service - many shops advertise this with a prominent sign - and what threshold applies. It may be more than 150 euros, which means that purchases of a lower value will not be considered for a refund. At the check-out you should provide evidence that you are a non-EU tourist by showing your non-EU passport. You may also be asked to show evidence of when you will be leaving the country such as a return flight ticket, and you will have to fill out a form.
You then pay full price for the goods i.e. you pay the price with IVA but you have registered your intention to reclaim the IVA at a later date. It is a good idea to ask in the shop if they charge an administrative fee or commission as this fee will be deducted from the IVA that you later reclaim. Keep the invoice for the goods that you have bought.
As you leave Spain, show your invoice and associated documents to the customs officials and they will stamp them for you. You can claim the refund immediately in some large airports but if not, you have to wait until you are home and send the refund form to whatever address the shop gave you to reclaim it.
Only items that you can feasibly carry with you are included in this scheme. Also remember that since visitors are only allowed to stay for a maximum of 90 days in the Schengen zone, you will lose the right to reclaim the IVA if your departure date is more than three months after the purchase date.
Click on this link for further information: