Spanish Cuisine: Sunshine on a plate
Think of Spain's cuisine and your mind will probably conjure up images of paella or tapas. However, Spain is much more versatile than just these well known dishes. It is a country full of flavour and fresh ingredients with many regional varieties. Luckily Axarquía has some great options when it comes to restaurants and eating out. In addition, local produce can be found at the many markets here. The bustling, large Vélez-Málaga Thursday market is a good option or the smaller, more intimate Trapiche market held on Tuesday mornings.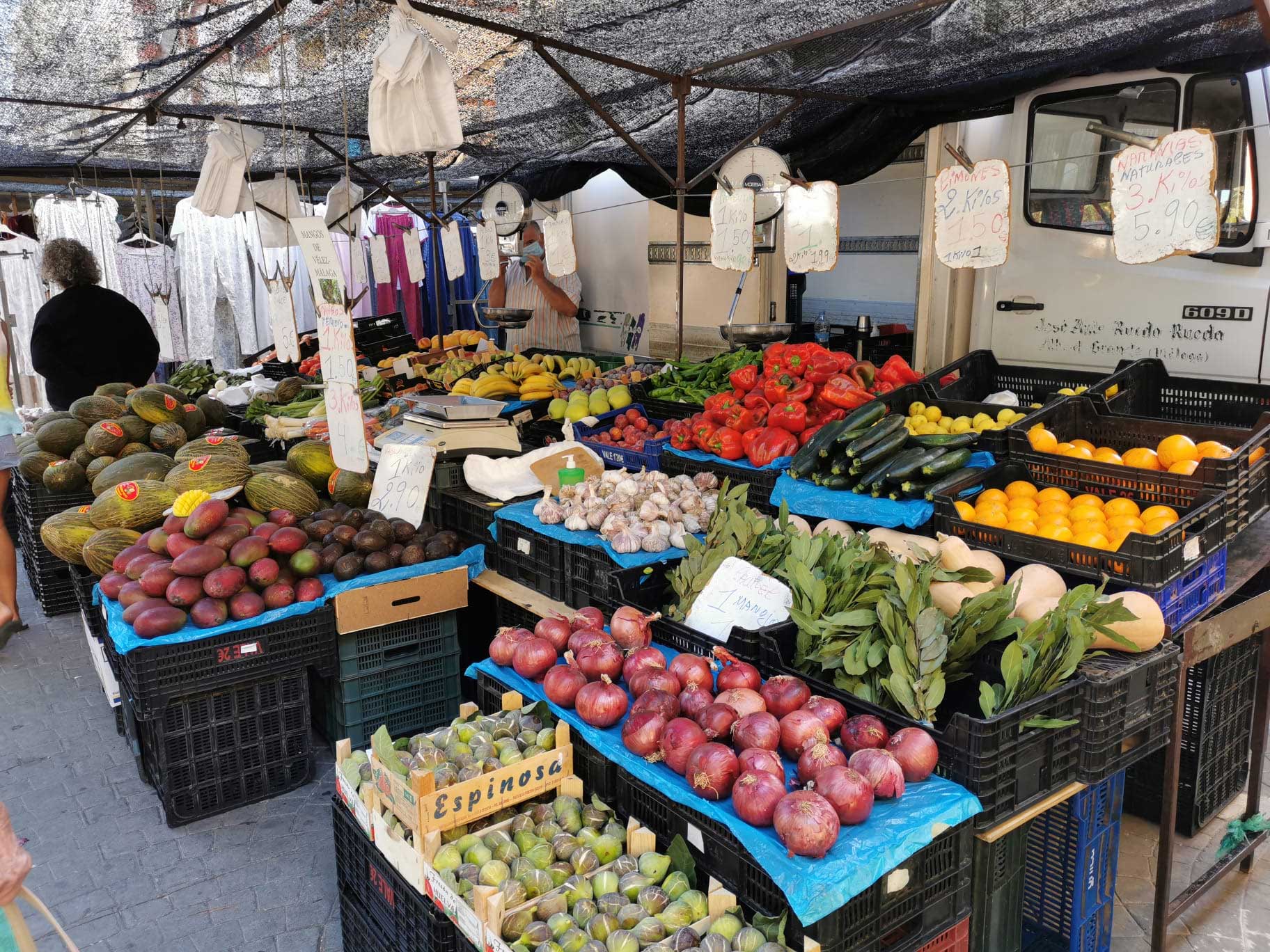 Local street market for all your fresh fruit and vegetables in Torre del Mar
Olive oil from Axarquía: possibly the best in Spain
The Mediterranean diet is renowned for its health benefits and high quality olive oil in your pan will not only add authenticity to your dishes, it has been shown to be good for health too. There's a massive choice to choose from but look for the Malaga stamp then you can be guaranteed to be getting a locally produced product. Better still recycle, and armed with an empty, clean plastic bottle take a trip to your local olive oil factory. It can't get fresher than that! Don't be surprised if you're given a shot glass to test the golden liquid. After all, it is poured neat onto salads.
Vegetable variety
Look for seasonal vegetables or watch what the locals are buying. Sweet white onions, avocados, tomatoes, huge bulbs of fresh garlic, mangoes all are grown here. It's like a trip to a healthy sweet shop. Be aware that not as many chemicals are used in the agriculture here, so it's as well to buy what you need and eat it quickly!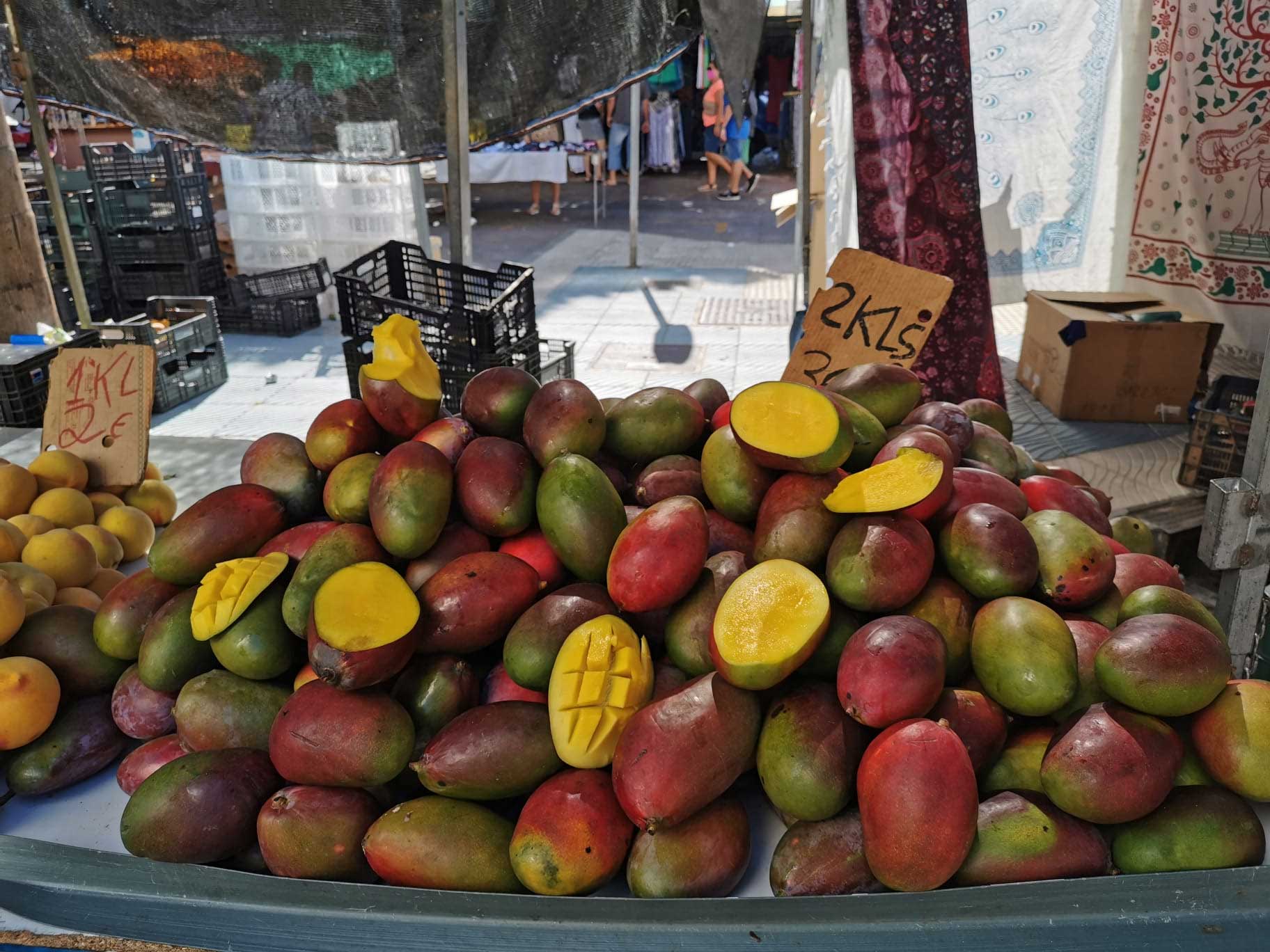 Fresh mangoes in the local Torre del Mar street market
Fresh fish
The fish counters in the supermarkets surpass anything that you'll see elsewhere. Queues form at a weekend as every conceivable seafood and shellfish seems to be on offer. It's so fresh that you can almost smell the sea air as you buy. Get a selection, stick them in a deep pot bubbling with white wine and herbs for 10 minutes and enjoy with the bread baked fresh at your local panaderia.
A multitude of meat
We might live near the coast but we also have the benefit of the mountains and with them comes all sorts of meat: lamb, goat, wild boar to name a few. There's a plethora of asadors in the area and everyone has their own favourite one where meat is grilled to perfection on huge open charcoal BBQ. It's difficult not to love this style of cooking, unless you're a vegetarian!
Sunshine on a plate: be creative
I love cooking and experimenting. Axarquía allows me to fulfil my hobby in a spectacular way. A quick, easy and delicious sharing meal using lots of local produce that I make is a chicken dish. I throw chicken thighs, skinned or otherwise, into a pot with white onions, garlic (both of which I've softened in local olive oil). I add tomatoes, maybe some peppers and a use white wine as my stock. If I'm feeling lavish, I'll add some cream at the end. Otherwise, within 30 minutes, it is good to go. Once ready, I'll serve my dish Spanish style placed in the middle of the table - ready for sharing. In summer, the best accompaniments are a fresh green salad with finely sliced red onion and a bowl of olives. Weather is nearly always permitting, so my Spanish chicken is a perfect patio dinner for the whole family or friends or just us. Sitting outdoors, sharing this delicious dish seems like sunshine on a plate. This is the main meal so this is served mid afternoon and certainly prepares us for a siesta! And, for a change, I replace the chicken with homemade meatballs. Then I have created a wonderfully scrumptious albondigas con tomate. Olé!