The 6th Colour Run Torre Del Mar 2023
The Colour Run is back!
Sunday 16th April
Location: In the area where the music bandstand is in the Paseo Maritimo 'Virgen del Carmen' in Torre del Mar.
Time: Scheduled for 10.30 in the morning
How to Enter: You can enter at Box Aklyes in Plazamar and Calle Poniente, BASE stores in Torre del Mar and Velez Malaga, and online using this link: http://www.global-tempo.com/carreras.php?id=2035
Price: 10€ (1€ in favour of ACTEA)
The Colour Run, is a five kilometer paint race; inspired by the Hindu festival of Holi, it is also referred to as "The Happiest 5K on the Planet". Currently the largest running series in the world, it has been experienced by over 8 million runners worldwide, in 50+ countries. It is a unique event that celebrates healthiness, happiness and individuality. Torre Del Mar's first colour run was organized in 2016 under the aegis of "ACTEA-Axarquia" -The Association for Care and Integration of people with Autism Spectrum Disorder (ADS), with the idea of raising awareness and funding for both adults and children with ADS within the area.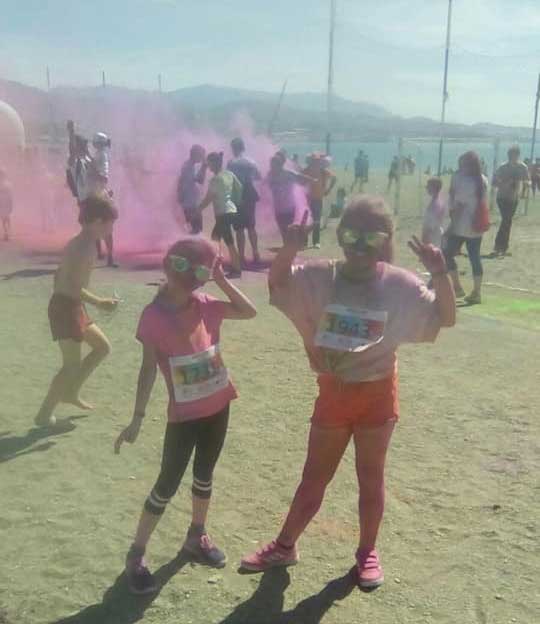 Local children enjoying the colour run
Colour run takes place on the 'running lane' on the beach
The Colour Run takes place on the very well defined "running lane" on the beach in Torre Del Mar. Brilliantly maintained by the Tenencia de Alcaldia (Torre Del Mar's town hall) the running lane is used all year round, for walking or running along the stunning beachfront. The event has previously taken place in April coinciding with National Autism Awareness Month. You can purchase tickets to join the Colour Run at BASE Sports Shops in both Torre Del Mar and Vélez-Málaga and at Box Akyles Gym in Torre Del Mar. Tickets cost 10€, with (1€) going towards ACTEA-Axarquia and those taking part will receive a small bag, a T-shirt, a pair of sunglasses, a coloured bag and a bottle of water. The 5km race starts at the bandstand on the Paseo Marítimo Poniente in Torre Del Mar, and finishes in the same place. During the race, runners will be sprayed with different coloured powders at various points along the course, and it culminates in a "colour party" on the beach with live music, zumba, raffles and prizes.