Torrox Costa, Pueblo And Park: All Torrox, All Different
Torrox is the name of a collection of locations situated east of Torre Del Mar. This is a popular spot to live and holiday for both Spanish and other European nations with one big factor being it has the best climate in Europe. Each of these places have much to offer in their own right and, collectively, they form a lovely area to live, work and relax.
Torrox Costa
Located just 15km from Torre Del Mar, Torrox Costa has a totally different character and personality to its near neighbour. Like much of this coast, there's an impressive promenade that sweeps the length of the beaches here. At its eastern end, just past the lighthouse, the beach is dog friendly and is a great spot to let your furry friend run along the shoreline. There are even added pet showers very thoughtfully although getting a dog to actually sit under the water spray could be quite a major feat (or paw!).
From here, walking west, towards Malaga, along the Torrox coast is a sheer delight whatever the season. The lighthouse dominates the aspect and by its side are some of the oldest Roman remains on the Axarquía coast. There's a viewing platform that gives a great aerial view of a small part of structures that comprise in their entirety of a villa, a salting factory, two ceramic kilns, a necropolis and thermal baths. Inside the lighthouse is further evidence of a thriving Roman settlement with artefacts and a road.
The promenade continues and one of the great joys of Torrox Costa is the fact that the road is set away from the wide promenade giving it a relaxed and safe feel. It's lined with restaurants and bars and, because of its international appeal, many cuisines are catered for: Thai, Japanese, German, English etc alongside some incredible fish restaurants and excellent beach bars or chirunguitos. The other draw is the fact that Torrox Costa with its endless days of sunshine is an all year destination.
Aside from coastal walks, sunbathing and eating delicious food, Torrox Costa also has a great weekly market held alongside the main N340 road every Monday. It's a good place to grab a bargain and a mixture of stalls and locally grown produce. Torrox Costa is a perfect place to relocate, spend a day in the sunshine and just enjoy the beautiful Axarquía life.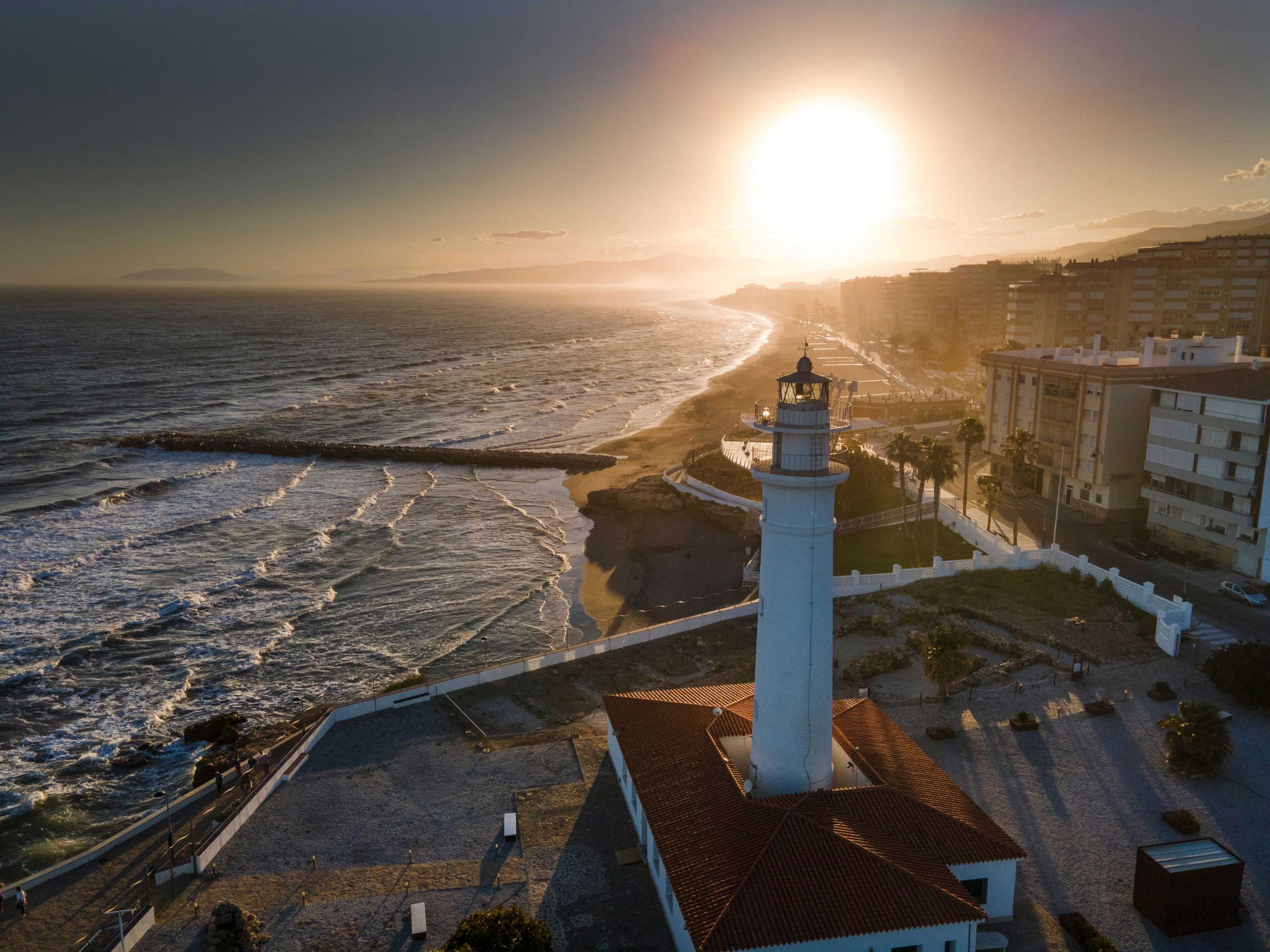 Stunning views of Torrox Costa coatline and the lighthouse
Torrox Pueblo
Torrox Pueblo is situated at the foothills of the Alpujarra mountains, a couple of miles inland from Torrox Costa. This is traditional white-washed village set in a green valley. There's a traditional Spanish feel to this small village, despite it being the home to many people from other parts of the world.
These beautiful umberellas keeping the square cool, have become a little attraction in Torrox Pueblo
The central plaza, Plaza de la Constitución, exudes the life of Andalusia with the small bars and terraces and a small fountain at its heart as well as the shade of the many orange trees. In summer, this plaza is awash with colour and vibrancy with the quirky addition of hundreds of umbrellas that shelter everyone from the intense heat and sun of Southern Spain. Possibly, the Spanish word parasol is more apt than umbrella as it is a definite, if unusual way, to provide shade. Torrox, like many of the locations in Axarquía has one of the best climates in Europe. The Alpujarra mountain range shelter the pueblo and it can seem like the blue skies are endless.
As with all Spanish towns, the chance to celebrate with a fiesta is evident in Torrox. Here, it is the Migas festival held on the last Sunday before Christmas that makes Torrox unique. The simple dish of 'Mijas is made from flour, garlic and salt and traditionally made for Torrox's farm workers. Now this simple food is a major town draw with over 40,000 visitors every year.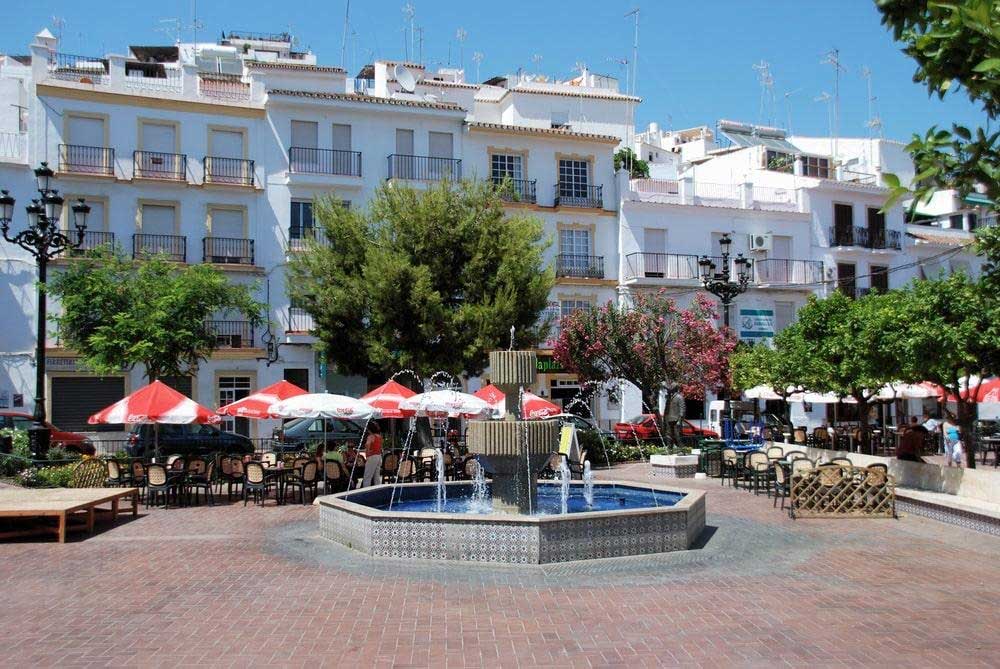 Enjoy a nice cold beer, refreshment and tapa in the plaza square
Torrox Park
Located between Torrox Costa and Pueblo, Torrox Park is a large collection of urbanisations that are popular relocation spots with those who decide to make this area of Axarquía their home. There's property to suit every budget and style: spacious villas, townhouses and apartments along with a large and well equipped mobile home park that allows all year living.
Whilst, in itself, Torrox Park, doesn't offer much for day trippers, many visitors stay here as homes are frequently listed for holiday rental. It does provide all the services required for a smooth stay or relocation: bars, restaurants, supermarkets as well as doctors, chemists, hairdressers etc.
The combination of Torrox Costa, Pueblo and Park is a winning one. Each has their own distinct character but each are connected to form an excellent place to stay, explore and maybe even to live.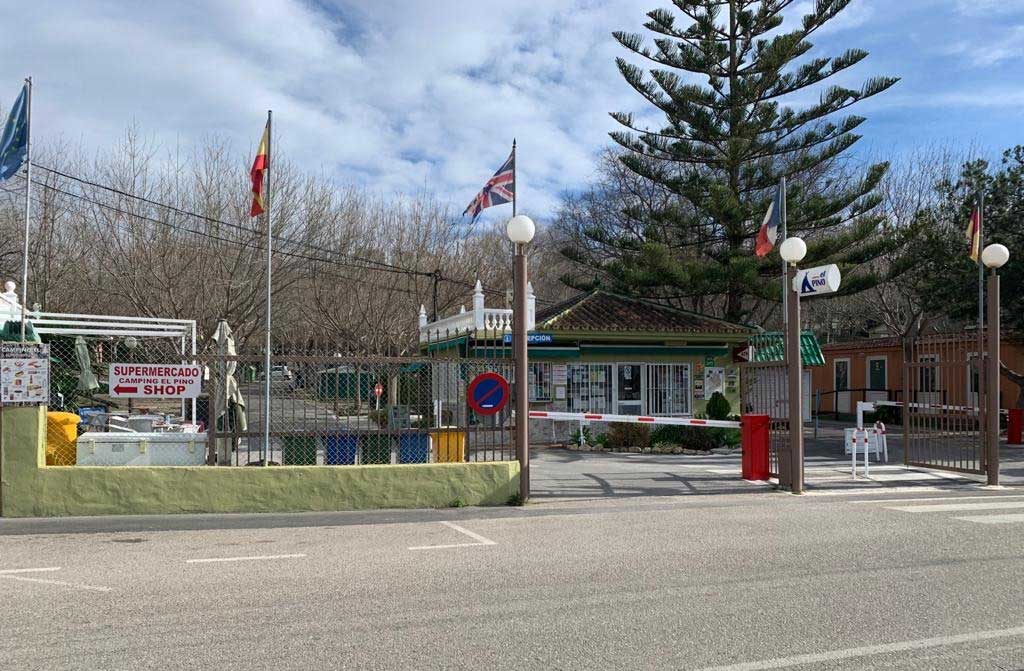 Torrox Park camping