Velez Malaga: Capital of Axarquia
Vélez-Málaga is the capital of Axarquía and the central location for much of the governance of this region. An often overlooked city, due to its close proximity to the international hub of Malaga, Vélez-Málaga has much to offer the discerning visitor.
Vélez-Málaga is not a well known city and therein lies much of its charm. It is often bypassed as visitors drive towards the more popular and more famous destinations such a Nerja. For many, it's a fleeting glance of its lofty tower and fortress remains from the A7 motorway. Whilst Vélez-Málaga is served by public transport from Malaga city, the more popular bus route that hugs the coast from Malaga all the way to Almeria bypasses Velez.
However, this actually creates many of Velez's charms and it is true to say that Vélez-Málaga is a genuine part of unspoilt Spain. If you spend time here, either as a visitor or because you have relocated to Axarquia, you'll certainly experience Spanish life and culture with few modifications for tourists. Go beyond the apartments that line the main routes into the small, compact city and you'll find a historic heart with many treasures to be explored.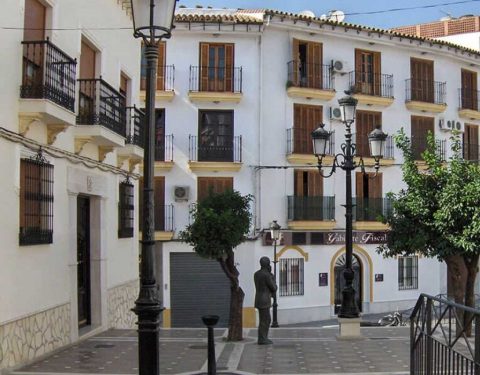 Quaint street in Velez Malaga
Weekly Thursday market
Like much of the area, there evidence of prehistoric settlements around Vélez-Málaga. However, it's significance comes from Arabic times and along with other towns in the area, it was a fortress town and important trading area. The tower is well preserved but the rest of the fortress disappeared over time because of natural disasters such as an earthquake in 1884. Traces of Arabic culture and origins can be found in the town such as the Mihrab Arch.
One place not to be missed is the recently revitalised Mercado de San Francisco. This former food market has been transformed into an excellent entertainment space where visitors are treated to the best of Spanish cuisine, drinks and live music. It's a great place to sit and people watch. However, if it's a real market that you are looking for then Vélez's weekly Thursday market from 8am to 2pm is packed with bargains. Stalls piled high with locally grown produce are next to stalls overloaded with clothing bargains. This is a real local's market and is situated on Calle Herreros where there is the benefit of ample parking.
Many of Velez's restaurants and bars have been in the same family for generations for example, El Rubio has been run by the same family for over 40 years. There's a sense of tradition in this small city. The festivals are numerous and include the regular ones such as a Feria in early September, 2022 dates are 27th September - 2nd October. Halloween and the Reyes Magos. There is also a festival dedicated to Flamenco guitar, as Velez was the birthplace of Juan Breva in 1844. In the world of flamenco, Breva was an expert and an innovator, initiating his own unique flamenco style of singing and guitar playing. His contributions to flamenco is recognised with an annual guitar festival. Throughout the year, flamenco features in many live music events here.
However, Velez embraces the modern too. In summer, a free drive in cinema attracts families from all over the region. The water park, Aquavelis and El Ingenio shopping centre are located midway between Torre Del Mar and Velez and both lay claim to them. There's a modern well equipped hospital which offers convenience and reliability: Hospital Comarcal de la Axarquia. Recently, there has been investment in the centre of the city and the new pedestrian area is a bright open space with seating and cafes. At Christmas, this space is highly decorated and even has festive photo backdrops for the best selfies. Velez seems to be constantly evolving and developing for the better.
This small city is the home to a number of people from various European countries who want to immerse themselves in Spanish life and culture. Compared to other cities in the region, property is affordable either to buy or rent. For the visitor, there are a number of small hotels, but possibly, the better option is to look for apartments that offer you the opportunity to live more like a local, drink in the small neighbourhood bars and feel part of a real Spanish community.