Christmas And New Year In Andalucia
Christmas on the Costa del Sol is unlikely to have the snowy scenes we might expect or hope for in the UK, but nowadays it can look quite similar to Chistmas as in many European towns and cities due to the decorations, Santa Clauses and Christmas lights.
However, there are some traditions which are uniquely Spanish or Andalucian, which make this time of year so extra special for all of us.
And if you need snow, you don't have to travel far for a white Christmas in Sierra Nevada.
Two "Christmas Days?"
Santa Claus or Papá Noel is a relatively new addition to the Spanish Christmas and until recently it was unusual to receive gifts on the 25th of December at all. Traditionally children have received their presents on the 6th of January, the 12th day of Christmas or the Epiphany, which celebrates the Three Kings' arrival at the stable to deliver their gifts to baby Jesus. Nevertheless as foreign influence increases, many children now receive presents on both days.
Preparing for Christmas
The lead up to Christmas can be lots of fun in Andalucia where a really festive atmosphere takes hold once the lights are switched on. Many towns and cities make quite elaborate displays. The Málaga light display changes annually and it is a sight to behold as the whole display stretches the length of the famous Larios shopping street in the city centre and people pack in to have their photos taken against the dramatic background of several million light bulbs.
The switching on of the lights, known as the alumbrado is an event in itself but you are advised to go into the centre by bus as parking will be near impossible - in Málaga at least.
This year the date for the inauguration of the Christmas lights and sound show in Málaga will be the 26th November at 7.00pm, https://thesentinella.com/blog/detail/christmas-lights-in-malaga-2023
In the run up to Christmas there are often special markets in the town and city centres, and up to Christmas Day itself children can visit Papá Noel in his many grottoes in shopping centres where the elves will take photos. After the 25th, there is a quick change around and Santa is replaced by one or more of the Three Kings to pose with the excited children for a second round of photos. Most Spanish children have a favourite king and believe that theirs is the one who delivers their gifts. Unlike Santa's trip down the chimney, the kings enter the home by magic through a window on the night of the 5th of January, leaving their presents for them to open on the 6th.
Christmas shopping is enhanced by the wonderful idea of putting a large roll of wrapping paper in many stores. You can wrap your gifts there and then; this may help you to keep their contents a surprise from prying eyes.
Shopping in December is usually less stressful than we might expect, mainly because a lot of present buying does not take place until after the 25th of December. The whole experience is likely to be accompanied by plenty of piped Christmas music including some of our favourites as well as Spanish villancicos, and you will not have any problem getting hold of a tree or decorations as they are just as one might expect.
You will however, also see the pieces of a Nativity scene sold just about everywhere, because making a Crib, 'Belén' in the home is a treasured tradition. Many families set aside a large table or other surface for their Belén, which consists of an often quite extensive collection of pieces which have been gathered over many years. The centre piece is of course the stable and the holy family, but all sorts of villagers and their homes, tools and animals, even rivers and pools, are likely to be found among the scenery. Many shops and shopping centres proudly display these scenes, and even compete with each other to create the most elaborate. The majority of the Nativity scenes have a 'Caganer' which literally translates as a man pooping. A figurine with its pants down whilst doing its business! You will often see families hunting for the Caganer which is usually found tucked away in a corner of the Nativity scene. Usually the Caganer is wearing a red cap and a white peasant shirt.
You will discover a whole range of Christmas sweet cakes and pastries in Andalucía. One of the most famous is the turrón which is a bar of almonds and honey and is like nougat, which you will find in many varieties often with chocolate. Marzipan treats and sweet mantecados are very popular as well as polvorones which are very light and dusty pastries. You may well find in a shop or bank a plate of polvorones sometimes accompanied by a bottle of anis which are put out for clients to enjoy.
If you are invited to a Christmas concert or even a meal with friends or colleagues, you might find yourself getting involved in the Christmas music yourself. The villancicos are all religious themed Christmas songs which everyone seems to know off by heart, and musical accompaniment is encouraged whether you are urged to scrape your fork or spoon against the patterned surface of an anis bottle, bang a pandereta (tambourine) or create the amazing sound of the zambomba which is an earthenware friction drum which you pump up and down in time to the music
The Christmas Lottery
Before Christmas actually arrives there is another day which causes great excitement - the Christmas Lottery. This is drawn on morning of the 22nd of December and the event takes hours as numbers are called out by singing children live on TV. All your workmates, neighbours and friends will doubtless have tickets even if just a décimo – one-tenth of a ticket. The prizes are so many that this lottery is known as El Gordo or the 'fat one'. An entire town can be turned into millionaires overnight if they have all bought shares of the same winning ticket. The real name of this draw is the Sorteo Extraordinario de Navidad, and you will find it advertised heavily on TV in the run up to the big day.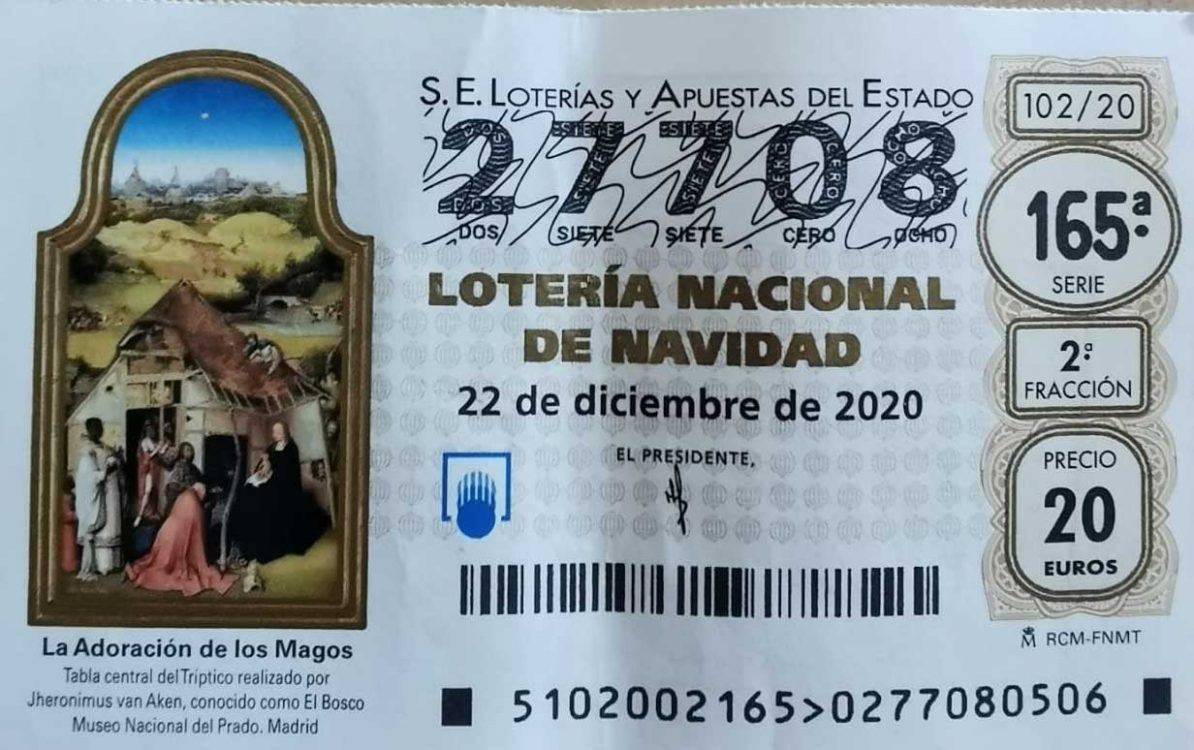 An El Gordo National Lottery ticket for Christmas
Christmas Day
Finally we arrive at the 25th December, and sitting down to a roast turkey dinner with all the trimmings on Christmas Day is a tradition which many foreign residents enjoy as if they were back in the UK, but the Spaniards have already had their big meal - the night before. Christmas Eve, known as Noche Buena, is a full family get-together with a typically Andalucian late night dinner for all. Turkey is not particularly favoured although it may be served. At this time of year we see many different types of poultry and meat on sale in the shops, and many families go for seafood such as prawns for one of the courses.
While the choice of festive meal may vary from family to family, it is unusual to find a home without a whole leg of cured ham sitting on the side waiting to be finely sliced. This jamón can be simply cut thinly as a snack, an appetiser or an ingredient or garnish. If you are buying one of these hams, you may feel that you do not know where to start. A pata negra is a very decent choice; the salesperson wherever you shop will be able to advise you. And don't forget that you will need to buy a special stand and knife to enable you to fully enjoy your jamón.
So if you fancy a British style Christmas Eve in the pub, you would do best to head to a British bar, as you may well get out to find the streets deserted as the Spanish enjoy their special family meal at home after which they may go out to Midnight Mass - Misa del Gallo. On Christmas Day, the streets will not be quiet especially if the weather is good; people will be out and about and the bars will be open as usual.
In Spain, Boxing Day is not a public holiday and the shops will be open as usual. But don't expect the sales to have started yet, as many people will still have to buy their presents for the main gift-giving event on the 6th of January, and the majority of the sales begin on the 7th.
Día de los Inocentes
On the 28th December, Spain celebrates its own version of April Fools Day, so watch out because someone might just try to play a trick on you!
New Year
The end of the year now approaches and we head to New Years Eve which is known as Noche Vieja. Once again there is a family meal, so shops close early to allow everyone to go home and get ready. Don't expect to sit in a bar waiting for midnight, as most will be closed as the staff go home to eat with their families.
As midnight nears, everyone gets ready with their 12 grapes to count down the last 24 seconds of the old year while popping a grape in their mouths with every chime of the midnight bells - this means one grape every 2 seconds. In recent years little tins of peeled seeded green grapes have been on sale for this purpose. Apparently these are the 12 good luck grapes and if you don't manage to swallow them all, you will have bad luck the following year.
The Three Kings - Reyes Magos
The build up to the visit of the Three Kings (the Reyes Magos) now begins in earnest. Remember that some families have never adopted Father Christmas and their children have now been waiting for days for their presents.
The evening of the 5th of January there are processions known as the Cabalgata all over Spain. The Three Kings ride by on floats through the streets, waving and throwing sweets out for the children who normally rush forward to grab as many as they can get hold of. Accidents in recent years have led to the tightening up of security at these events.
The Three Kings are called Melchor, Gaspar and Baltasar, and every child will know exactly who is who, and who will be visiting their home later on.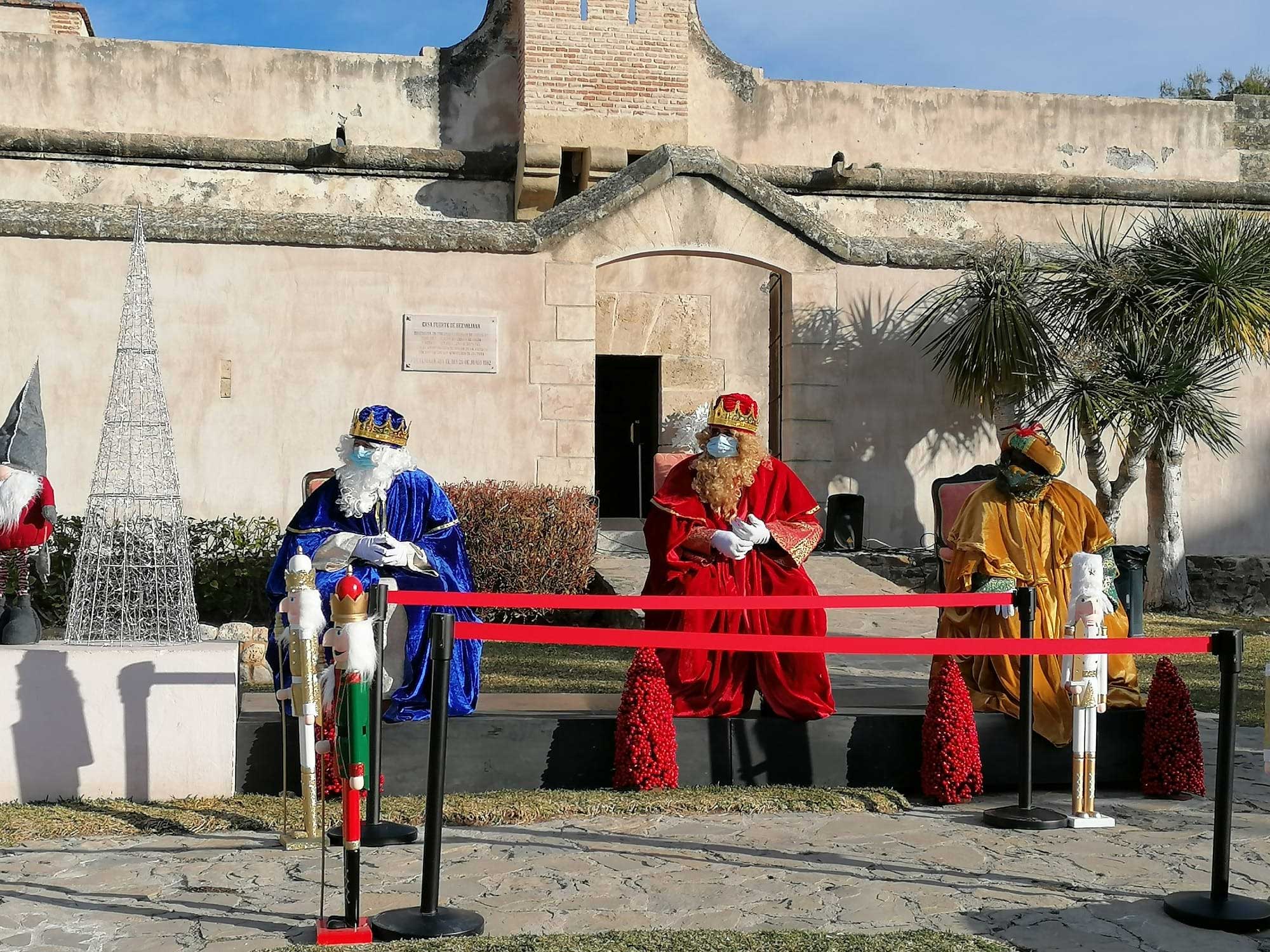 The Three Kings waiting to greet all the children
The following morning, the gifts are opened. For the children to whom Santa has not paid a visit, the fun may be short lived or at least have to wait a little, as they usually return to school the very next day.
For their parents however, there is a little more excitement as the winners of another hugely popular lottery called El Niño are picked on the 6th of January.
If you venture out on the morning of the 6th, you will see children out on their new bikes and playing with their new possessions. You will also see people queuing up outside the bakeries to pick up their cake. This is the Roscón de Reyes, which is a large doughnut shaped sweet cake decorated with candied fruits and filled with cream or chocolate. The shape is supposed to represent the crowns of the three kings.
The Roscón should contain both a little gift which is normally a tiny ceramic statue of one of the Reyes Magos, and also a dry bean. Whoever finds the statue is the king of the family for the day whereas the unlucky recipient of the bean has to pay a forfeit or buy the Roscón the following Christmas.
With the various events of the Christmas period now over, those who have any money left and those who have received money as a gift are now ready for the next event in the Spanish calendar - the official start of the January sales on January 7th.
Now we understand why in Spain as well as wishing each other Feliz Navidad (Merry Christmas) we often wish each other Felices Fiestas (happy holidays/parties).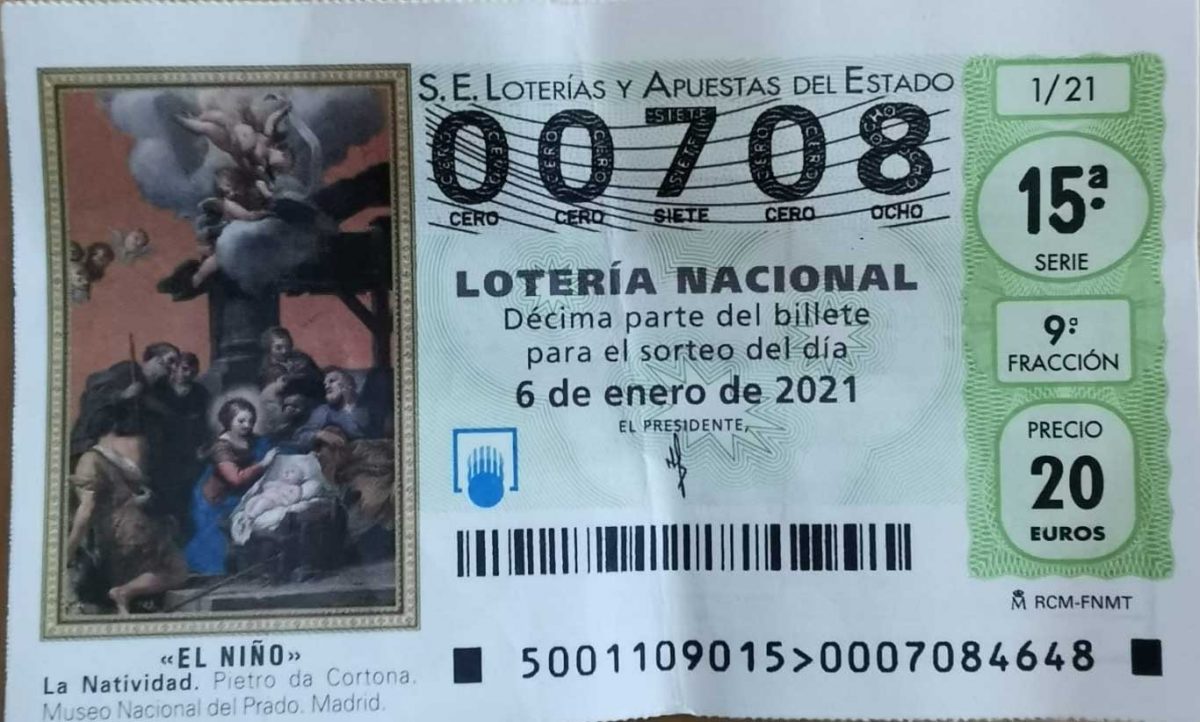 An El Nino National Lottery Ticket
Merry Christmas everyone!