Torre Del Mar Airshow - 2023
Dates for 2023 - Friday 8th, Saturday 9th and Sunday 10th September
Friday 8th - Practice
Saturday 9th Night show 7.15pm
Sunday 10th 11.30am
Torre del Mar Airshow is an annual aeronautical event organized anytime from the middle of July to the middle of September by the Ayuntamiento de Vélez-Málaga and the Tenencia de Alcaldía Torre del Mar - What used to be a quiet little town in the Axarquia has now become an important tourist destination for entertainment, with an authentic Spanish atmosphere. https://www.youtube.com/watch?v=Kebyp8nPlYA This is a three day weekend event, for the Torre del Mar Air Show. The pilots usually do their practicing Friday and Saturday. The main event usually starts around 11am on the Sunday morning and finishes around 3pm, times may change but don't worry, as soon as the schedules are released it will be posted right here on our website! The line-up is also promoted on the official website https://festivalaereotorredelmar.com which has an excellent section on previous events too. Or follow the event on https://www.facebook.com/FestivalAereoTorredelMar/ Since the first edition of the Torre del Mar Airshow back in 2016 Torre del Mar has seen some of the best aerobatic pilots in the world with the most advanced aerospace technology present at this prestigious Festival Aéreo Internacional de Torre del Mar. And what a privilege it is to be able to watch free open-air entertainment with all these spectacular performances and mind blowing stunts right on the beach front in Torre del Mar.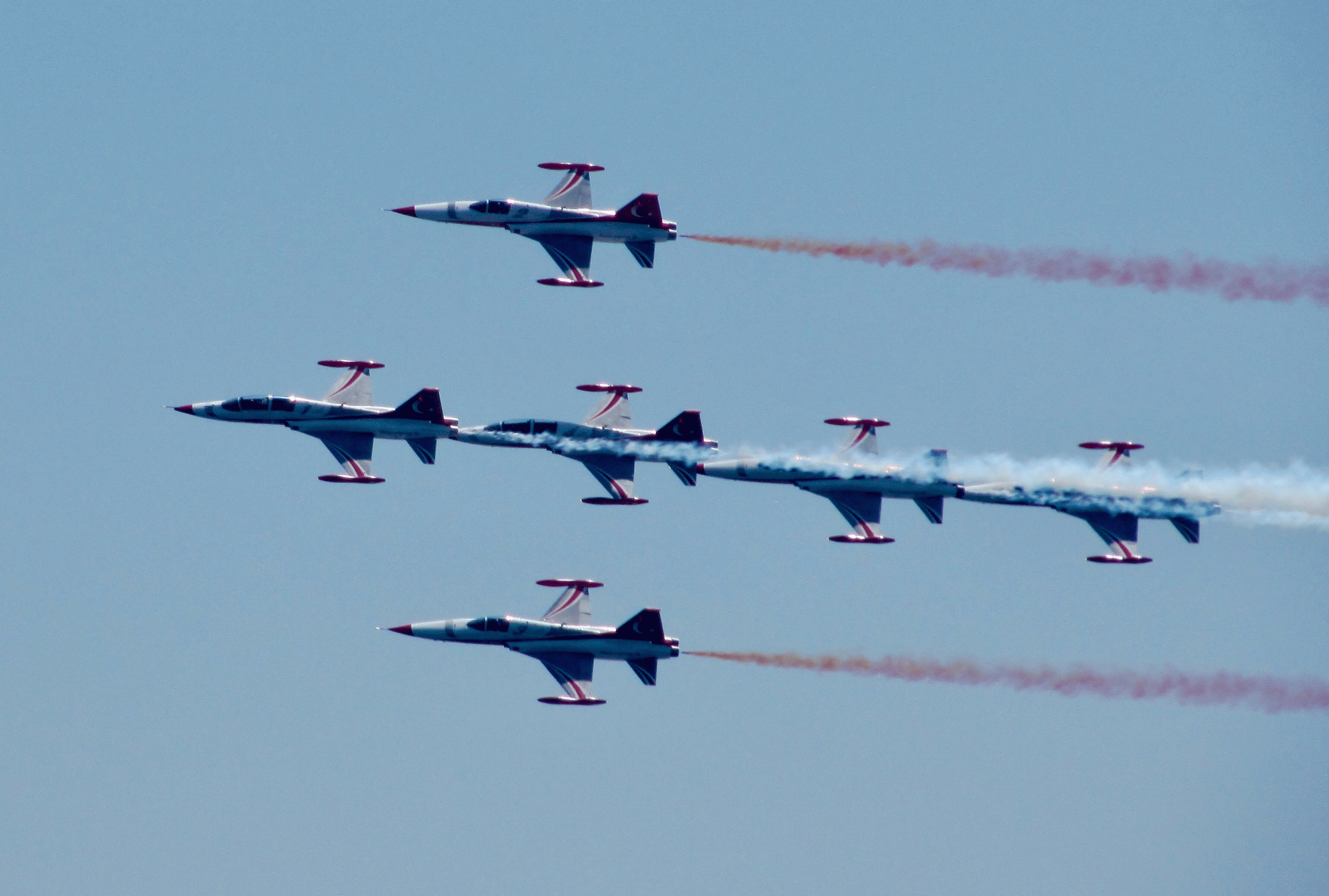 Freedom Fighters making their performance
Over 300.000 Spectators!
During the Torre del Mar Airshow over 300.000 spectators look to the skies from one of the Axarquías beautiful beaches to watch this four-hour airborne display, a truly unique and unforgettable experience plus an exceptional day out with family and friends. Get to the seafront early to get the best spot or enjoy over some lunch at one of the many 'chiringuitos'. (If you do opt for the beach restaurant it's recommended that you book a table as they will all be extremely busy) You could also watch the Torre del Mar Airshow directly from the sea by hiring a boat with Sailnplay or even take your inflatable, the options are endless. Whatever you choose to do, don't forget your sunscreen and stay hydrated, it can get hot on the Costa del Sol, and you can expect temperatures of between 28 to mid 30 degrees! Most importantly, don't forget your sunglasses as the July sun is powerful and much of your day will be spent with eyes focused on the sky.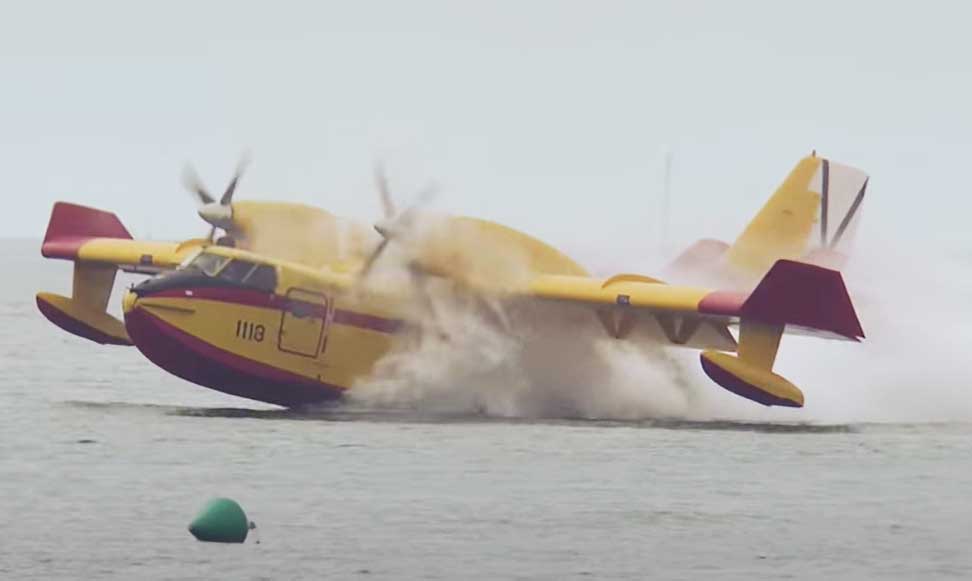 The famous water plane that puts out the fires in Axarquia
World class participants
At the Torre del Mar Airshow we've seen a huge cast of world class participants covering the history of aeronautics with over 40 historic aircrafts, jet fighters, aerobatics patrols, from more than 5 different countries (Belgium, Switzerland, England, Italy and Spain..) including: Eurofighter Typhoon: The world's most advanced swing-role combat aircraft providing simultaneously deployable Air-to-Air and Air-to-Surface capabilities, originally designed as an air superiority fighter. T-6 American Texan: An American single-engined advanced trainer aircraft used to train pilots of the United States Army Air Forces, United States Navy, Royal Air Force, and other air forces of the British Commonwealth during World War II and into the 1970s. Canadair CL-415: A amphibious aircraft built originally by Canadair and subsequently by Bombardier and Viking Aircraft. It is based on the Canadair CL-215 and is designed specifically for aerial firefighting; it can perform various other roles, such as the search and rescue and utility transport.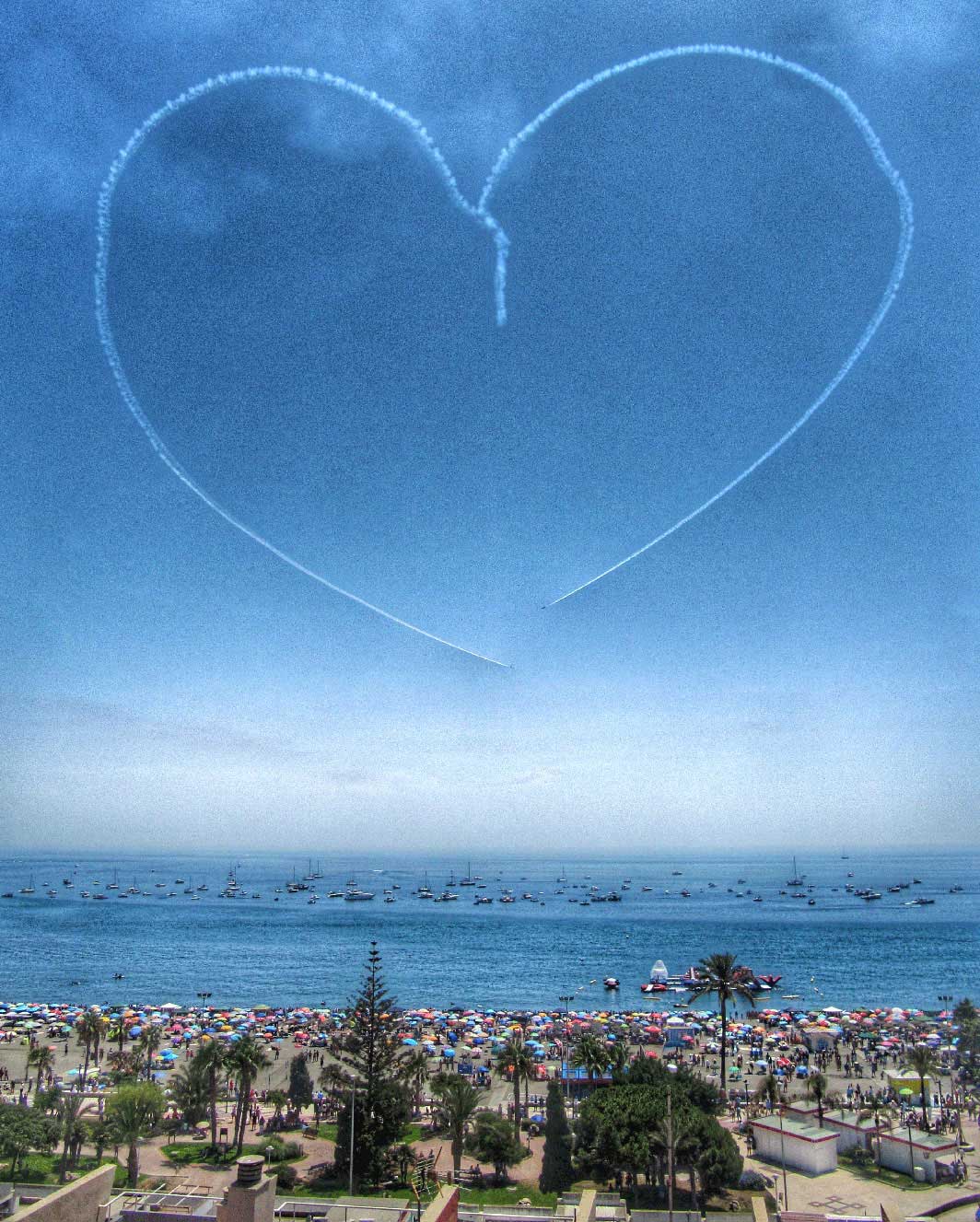 Magical picture of the Torre del Mar airshow 2019
As well as Aerobatic performances at the Torre del Mar Airshow they have also been known to perform Spain's very own Air Force 'Patrulla Aspa' and 'Acrobatic Parachute Patrol' (PAPEA) stunts from the 'Guardia Civil', a brilliant day and night show from AeroSPARX original market leaders in airborne pyrotechnics, leaving remarkable pictures in the night sky and loaded with fireworks which they let off while in flight. Words can't explain what an amazing experience this is, you'll just have to see for yourself! The night show is Saturday 9th September at 19.15pm. Torre del Mar is definitely worth a visit and not just for the Air Show.
Make sure that it's in your diary!